Republished from 2018. Current AAA Pres., Joseph Ciccone.

It has been a total pleasure to work with so many gifted individuals in the American Accordionists' Association (AAA) through the many years I have been on its Governing Board.

Some have stood out, working tirelessly – for decades – as educators, adjudicators, performers and promoters of the instrument we all love: the accordion. This article celebrates two of these hard workers who are also close friends and colleagues of mine: Linda Soley Reed (former AAA President, 2005-2014, and current AAA 2ndVice President) and Mary Tokarski (current AAA President).

It is accurate to say that Linda Soley Reed retired two years ago from her full-time job at a recruitment advertising firm to work "around the clock" for the AAA! While still working full-time, it was not uncommon to find Linda coming home to put in another eight hours working on the AAA newsletters, journals, and booking performers for AAA functions.

Always doing her work with humor and a steady, loving commitment to the organization, Linda has been a joy to work with all of these years!

Linda Soley Reed began studying the accordion at the age of seven, and participated in Connecticut statewide and AAA competitions, winning numerous awards.

She studied with the late Rudy Molinaro and was a music theory major at the University of Bridgeport (Connecticut). Linda became a Certified Teacher member of AAA in 1962 and by 1971, she was an active member of numerous AAA committees as well as the owner of the Molinaro School of Music in Bridgeport, Connecticut.

Linda Soley Reed chaired the AAA "Accordion Day" events for many years and her ensembles and orchestras consistently won awards at the AAA competitions. Linda also performed with the four-piece band, Odyssey, for over 15 years which was in constant demand entertaining at numerous social events, catering halls, and country clubs all over Connecticut.

Linda married Jim Reed and their first vacation was to, you guessed it – an international accordion competition in Linz, Austria. This was the beginning of numerous accordion excursions for the couple.

In 2004 Linda became the Connecticut Accordion Association's conductor of their newly formed orchestra, a position she held until moving to Florida in 2016. In April of 2016, she was honored with a Lifetime Achievement Award by the American Accordion Musicological Society in Whippany, New Jersey.

Linda continues to serve on numerous AAA committees and, we on the Governing Board, are delighted to have such a fun, active dedicated member! Linda met Mary Tokarski when she was eleven and Mary was a tiny seven-year old, just beginning to play the accordion.

Linda clearly remembers how amazingly well this little girl played, and Mary still plays amazingly well! Mary also hails from Connecticut where she studied accordion with her half-brother Michael Fernino at his studio in Ansonia where they had extensive training in all aspects of music.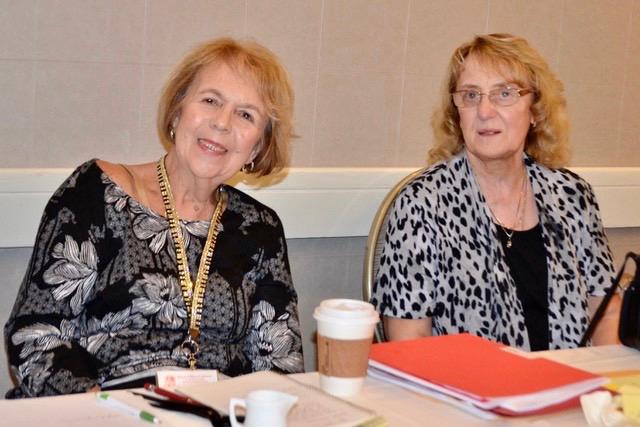 Linda and Mary


She and her siblings, Julie Cardona and Walter Kasprzyk, won competitions as soloists and with ensembles throughout their childhood years. Mary won first place in the AAA's US Virtuoso Championship in 1971. She represented the United States in Belgium the same year at the World Cup of the Accordion (Coupe Mondiale).

A renowned concert accordionist, Mary has performed internationally in Australia, Belgium, Canada, China, Croatia, the Czech Republic, France, Germany, Italy, New Zealand, Scotland, Switzerland, the United Kingdom, and throughout the United States.

For many years, Mary performed and toured with her brother Walt and sister Julie as the "K" Trio. Their performances were always joyously anticipated, and they dazzled audiences with their tremendous skills, great accordion arrangements and fun antics.

In 2006, I had the pleasure to collaborate with Mary and our friend Karen Malan-Uribe to create the celebrated children's book, "An Accordion! What is That?" Karen wrote the book. I illustrated it and Mary narrated and played accordion for the accompanying CD.

The three of us presented assemblies in schools, thrilling young children with our beautiful accordions and our colorful educational book and CD. My favorite trip was to the Green Acres Elementary School where Mary served as music educator in their Early Childhood Development Program. The children called her "Music Mary"!

For 35 years, Mary served as Director of Music Education at Tokarski Music Center in North Haven, Connecticut, where she taught piano and accordion, as well as conducted the choral and ensemble programs.

Mary is still teaching piano and accordion in her new home in Hamden, Connecticut, and continues to travel extensively presenting workshops and accordion master classes, coaching, performing, as well as adjudicating for national and international juries.

Since 2015, Mary has been the President of the AAA until 2019 where, along with her many duties, she also conducts the annual festival Youth Orchestra.