by Rob Howard
On Monday August 31st the accordion world lost one of its greats - Anthony Mecca. He was 94 years old. Remembered for his extraordinary performance on the stage of Carnegie Hall with his brother Dominic and the Charles Magnante Quartet on April 18th 1939 (the first time accordions were featured on this stage - with 3,000 in the audience), Tony was a very respected performer and accordion teacher his entire life.
Tony was born in Waterbury on January 9th 1921, son of the late William and Margaret Mecca. He was a graduate of Crosby High School's Class of 1938, and served his country proudly during WWII with the U.S. Army. A career musician, he began playing the accordion at the age of 10, studying under performer and composer Joe Biviano in New York City.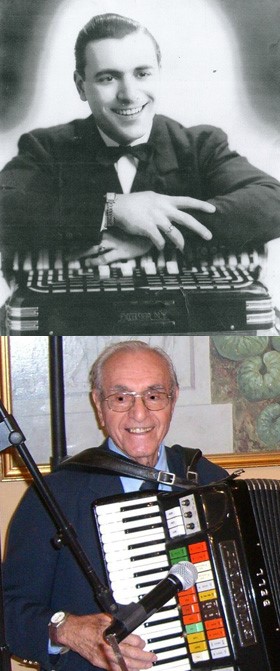 When he was 18 years old, he performed at the first ever accordion concert at Carnegie Hall, along with his brother Dom. Their duet of 'Rhapsody in Blue' brought down the house and earned them an encore.
While serving in the U.S. Army, he provided entertainment for the troops by playing the accordion and his hand held instrument. He eventually moved to New York City and became a teacher at Biviano's Music School, as well as a staff musician for ABC, CBS, and NBC.
He continued to perform in concert and at clubs, and in the mid-1950s he opened his own music school in Westchester County, New York. He was Vice President of the American Accordionists' Association, and during his years in New York he performed at many of their events in New York and other major cities around the country, including performances with the New York Philharmonic Orchestra, conducted by Michael Tilson Thomas and Leonard Bernstein.
He provided background music for many Broadway musicals and operas, and recorded with artists, Andre Kostelanetz, Percy Faith and Mitch Miller. He recorded many albums with Joe Biviano, performed in the orchestras of Bobby Vinton, the Ed Sullivan Show, and the 'Lucky Strike Hit Parade'.
In the early 1980s Tony and his wife Jeannette moved to Florida, yet he continued work as a musician, playing shows, private parties, and performed as a soloist with the local pops orchestra. In 2000 he accompanied Luciano Pavarotti during a performance with a Florida symphony orchestra. Following the death of his wife in 2013, Tony moved back to Connecticut.
Tony is survived by his son, William J. Mecca, and his sister, Katherine "Kay" Rocco. He was predeceased by his siblings Domenic, Leonard, Mildred, Antonio, and Leonardo.
The family would like to thank the staff at Wolcott View Manor, and St. Mary's Hospital ICU and VITAS unit for the kind and compassion care given to Tony.
A Mass of Christian Burial will be held Saturday September 5th, 11am, at the Basilica of the Immaculate Conception, Connecticut, with full military honors.
List of Anthony Mecca publications:
· Jazz Ideas for the Dance Band Accordionist, Book 1, #OP8097
· Jazz Ideas for the Dance Band Accordionist, Book 2, #OP8098
· Mecca's Chord Course for the Accordion, Volume 1, #OP8117
· Mecca's Chord Course for the Accordion, Volume 2, #OP8118
· Mecca's Chord Course for the Accordion, Volume 3, #OP8119
· Progressive Ideas for Pop Playing, #OP8039
· Progressive Jazz Styles, #OP8076
· Dark Eyes, #OP0213
· When the Saints Come Marching In, #OP0215
· Oh, Marie!, #OP0216
· Boppin' the Blues, #OP9586
· Flight to Mecca, #OP9587
· Paula, arr. Mecca, #PD0725
OP = O. Pagani now published by Busso Music