This honor is in recognition of the exceptionally prolific contribution Joey Miskulin has made to the recording industry, having played on hundreds of albums with many of country and popular music's best known names over many years. AAA Board member Dominic Karcic was the Chairman and Master of Ceremonies.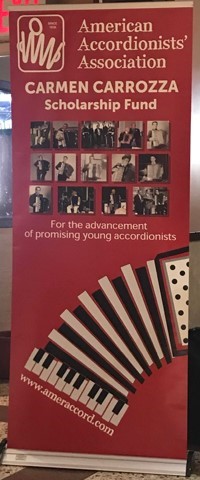 Since the 1970s, Joey Miskulin has recorded with the likes of Paul McCartney, U2, John Denver, Ricky Skaggs, Andy Williams, Ricky Van Shelton, Emmylou Harris, Frankie Yankovic, Garth Brooks, to name but some. Also a singer, arranger, and producer, Joey Miskulin is well known for performing country music as 'Joey the Cowpolka King' with the band Riders in the Sky and polkas with Frankie Yankovic, but his versatility extends into jazz, evidenced by his album, 'The Other Side of the Fence'.
Also in 1990 for his ground breaking 'Accordion Styles and Techniques" video/DVD, which was the first video of its kind. Miskulin's production credits include 'Toy Story' for Disney/Pixar, and recently in Shanghai, China, where he spent two weeks working with the Walt Disney Company.
About 125 people enjoyed great entertainment, education, and a wonderful dinner with dancing. The program featured the Long Island Accordion Alliance who provided music.
The program began with the Welcome and Benediction given by Dr. Joseph A. Ciccone, President of the American Accordionists' Association. Enjoyable dance music was provided by accordionists Mario Tacca, Frank Toscano, Dominic Karcic with Phil Battiston on percussion/vocals.
Everyone was delighted by the concert program presented by accordionist Mario Tacca and singer Mary Mancini. The two winners of the 2019 Carrozza Scholarship Competition performed. Gia Ciccone played "Carnival of Venice". Nathan Chapeton who represented the USA at the 2019 Coupe Mondiale performed an emotional "Schindler's List". Nathan has studied for over ten years with AAA Board of Directors member and teacher, Mary Tokarski.
He recently placed 16th in the Coupe Mondiale Master Competition in Shenzhen, China in a field of 49 contestants. Gia Ciccone, 12 year old accordionist is a 7th grade student and presently studies with Mario Tacca. She started taking accordion sessions at the age of 5 with her Great Uncle, Maestro Carmen Carrozza. She has won many prizes. Read more details about Nathan and Gia in the October www.accordionusa.com news.
Joey Miskulin's award was presented by AAA President Dr. Joseph Ciccone (picture right) and the Board of Directors. Joey entertained everyone with a medley. Joey is friendly, engaging, and very modest about his musical gifts and many accomplishments in the musical world.
Dominic Karcic shares his thoughts; "The 2019 edition of the Carrozza Scholarship Fund Raiser took place on Sunday, September 8th at the Famee Furlane of N.A. in College Point, NY. This event also served as the venue for the American Accordionists' Association to present grammy winner and country music hall of fame member Joey Miskulin with its Lifetime Achievement Award.The event was a total success on many levels featuring great food, good wine, plenty of dancing, great camaraderie and most of all, plenty of talented accordionists creating great music.
The twelve noon arriving patrons were met with music supplied by the Long Island Accordion Alliance (LIAA) featuring members Joe Campo, Bob LaBua, Dominic Karcic, John Perno, Phil Pete, Frank Scardino and Greg Zukoff. They offered a diverse.mix of toe tapping continental style music (waltz, polka, tango, rumba,merengue). They were followed by lilting dance music supplied Mario Tacca, Mary Mancini and Phil Battiston who were following by Frank Toscano and later Dominic Karcic. Midway through the afternoon Carrozza 2019 Junior Division Scholarship winner Gia Ciccone played a great rendition of her teacher's (Mario Tacca) arrangement of Carnival of Venice and Carrozza 2019 Senior Division Scholarship winner Nathan Chapeton played Unforgettable.

AAA president Dr. Joseph Ciccone followed presenting Joey Miskulin with the coveted Lifetime Achievement Award. After acknowledging the award Joey treated the audience to several entertaining selections. More great dance music followed. A good time was had by all.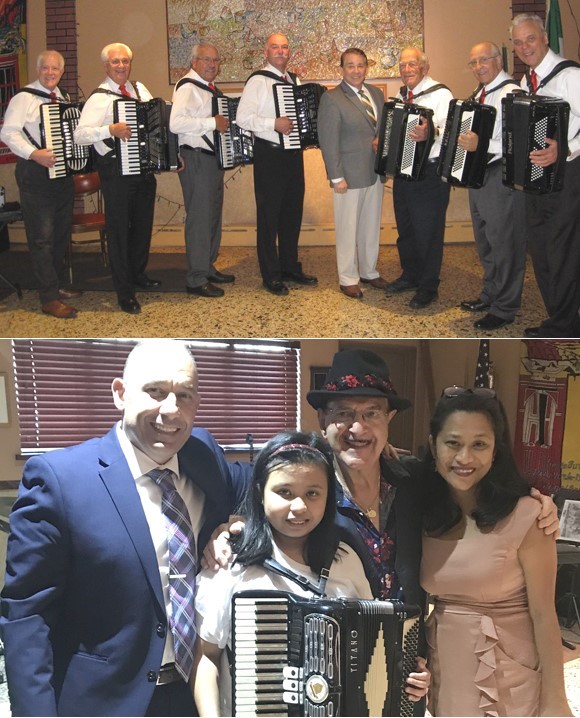 Pictures above: (left to right)
- LIAA Joe Campo, Frank Scardino, John Perno, Greg Zukoff, Joey Miskulin, Phil Prete, Bob LaBua, Dominic Karcic.
- Dr. Joseph Ciccone, Gia Ciccone, Mario Tacca, Ethel Ciccone.

Save the date for July 10, 2020 when Joey Miskulin will be the featured artist at the AAA Festival at the Holiday Inn Hotel & Suites in Alexandria, VA. The AAA Festival takes place from July 9-12, 202 and also features Cory Pesaturo and Sam Reider. Linda Soley Reed will receive the 2020 Lifetime Achievement Award at that time. More informations will be provided in future publications.