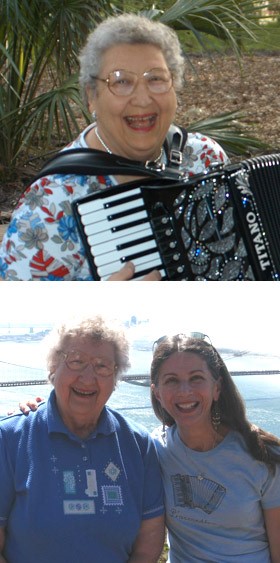 Picture above: Stella Allison 2006.
below: Stella Allison with duet partner Joan Grauman, 2007 at the Golden Gate Bridge.
Then, Stella met me. I was "retired" from playing for close to twenty years in a Balkan/Gypsy band and was basically not playing the accordion anymore. Someone put an accordion on me at a party and Stella listened. "I like the way you play and I want you to be my duet partner", said the forceful, lovable Stella. I hemmed and hawed, Stella's husband Roy put some sheet music in front of me, and Stella said, "Stop that FRITZIN' AROUND, and let's play!!"

From that moment on, our lives were never the same, and I feel very blessed! We toured the country together for 4 ½ wonderful years, playing our duets and making the audiences laugh at accordion camps, festivals, for the Northern Virginia Ragtime Society and many other venues and private parties. Actually, Stella made everyone laugh, as her sense of humor was totally delightful!!

When Maddalena Belfiore and Linda Reed asked the two of us to play at the 2005 AAA Luncheon Concert in Dearborn, Michigan, we worked very, very hard to do our best at this event. Even at that time, Stella's physical health was declining, so we decided to do a live concert CD while we were "at the top of our game".

In November 2005, we taped our concert live and the CD from that fun-filled evening sold out within months. We two "mediocre accordion ladies" were thrilled! This CD was recently re-released and can be obtained by contacting me at: joangrauman@verizon.net.