AAA FOUNDERS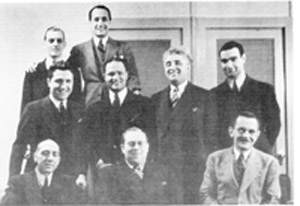 Pictured Left to Right:
Front Row: Pietro Frosini, Abe Goldman, Sydney Dawson
Center Row: Anthony Galla-Rini, Charles Magnante, Pietro Deiro Sr, Charles Nunzio
Back Row: Gene Von Hallberg, Joe Biviano.

Not Pictured: John Gart, Sam Roland, Byron Streep

MINUTES OF THE FIRST MEETING
March 9, 1938 Minutes - AAA Meeting
The first meeting of a group of New York accordionists was called for 8:00 PM Wednesday evening, March 9, 1938. The subject under discussion at this meeting was to determine whether or not an association for accordionists should be formed.
The meeting was attended by the following: Charles Magnante, Abe Goldman, Joe Biviano, Pietro Deiro, Pietro Frosini, Gene Von Hallberg, Anthony Galla-Rini, Charles Nunzio, Sydney B. Dawson, Sam Roland and Byron Streep.
This meeting was presided over by Sam Roland, who introduced the plan of the association to the previously mentioned men. A lengthy report was read covering the object of such an association, and the report of a survey was given also by Mr. Roland, which covered the recognition of the accordion in 48 states. The survey showed that it is not recognized in any states as far as high school competition is concerned. Whenever the accordion is used in competition, it must be sponsored by a private school or dealer.
A motion was made by Abe Goldman and seconded by Joe biviano to the effect that this group should form an accordionists' association and that this group plus John Gart should form the charter membership. The motion was carried unanimously. A motion a was made by Sydney Dawson that the name of this association will be "The American Accordionists' Association." This was seconded by Charles Magnante, carried unanimously. A motion was made by Anthony Galla-Rini, seconded by Pietro Frosini, that the officers of the association shall consist of President, Vice President, Secretary-Treasurer, Sergeant-at-Arms.
Frosini under the nomination for President, suggested that because of Pietro Deiro's record and reputation as "The Daddy of the Accordion," he be nominated and elected by acclamation as the first President of the association. Although nominations do not require a second, it was seconded by Galla-Rini and others. He was elected unanimously. The following nominations were made for vice president: Joe Biviano nominated by Abe Goldman; Frosini nominated by Biviano, Galla-Rini by Nunzio; Nunzio by Galla-Rini; Magnante by Deiro. Charles Nunzio was elected vice president. The election of secretary-treasurer: Sam Rowland was nominated by Joe Biviano; motion made by Abe Goldman, seconded by Pietro deiro that the election be by acclamation. Rowland was elected by acclamation. Motion was made by Sydney Dawson to the effect that that the one receiving the second highest number of votes in the election for vice president be given the sergeant-at-arms office. This was seconded by Abe Goldman. The motion was carried. Frosini was elected sergeant-at-arms. A motion was made by Abe Goldman that the members of the board of directors would not be eligible for the Academy Award as distributed year to year by the association. This was seconded by Dawson and carried. Rowland was instructed at the close of the meeting to prepare a model constitution and by-laws for acceptance, correction, amendment, or rejection at the next meeting. The next meeting was scheduled for April 6th. The meeting was adjourned at 10:00 PM
Association Office
117 West 48th Street
New York, NY