UPCOMING EVENTS
AAA Festival – Alexandria, VA
Holiday Inn - $119 Single/Double includes parking
For reservations: 1-877-834-3613 Reservation Code: A34
Our 2015 Festival in Alexandria will be a "spectacular" event with over $25,000 in cash and prizes which has been generously donated in Faithe Deffner's memory by a long-time friend of the accordion and AAA member who wishes to remain anonymous. We anticipate many contestants, several of whom have already requested invitations to obtain Visas and Passport. More information regarding performers, guest adjudicators and committees will be forthcoming.

Registration Form
Deffner Competition
Journal Advertising
Competition Entry Form & Summary
Coupe Mondiale Qualifying
Contest Rules
Festival Orchestra
Jr. Festival Orchestra
Tentative Schedule
Dr. Schimmel's Master Class and Concert at Tenri Cultural Arts Center in NYC will be held August 7-9, 2015 and this year's theme will be Chock full O'Learnin'. Reservation forms will be included in the January-February newsletter.
Carrozza Scholarship
Competition & Concert

Also on the agenda for AAA in 2015, will be the Carmen Carrozza Scholarship Competition and Memorial Concert which is tentatively scheduled for October 3-4, 2015 at the Double Tree in Tarrytown, New York. Dr. Joseph Ciccone will be chairman of this event which will include a Dinner/Concert on October 4th.


AAA Newsletter

Previous AAA Newsletters are now online under NEWS.
SPECIAL OFFER
For AAA Members and Friends
FROM THE PRESIDENT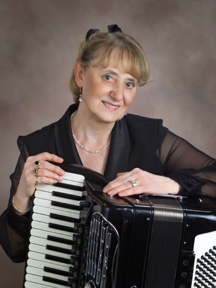 Welcome to the AAA website!
I hope you are planning on attending the Annual Festival in Alexandria, VA from July 8-12, 2015. The lineup is tremendous! Workshops by Professor Joan C. Sommers, Dr. Robert Young McMahan, SGM Manny Bobenrieth, Rita Davidson Barnea, Lauren Brody, Kenneth Moulton and me too!
Concerts feature Professor Viatcheslav Semionov from Russia, Grayson Masefield from New Zealand, jazz great Eddie Monteiro, Dr. Robert Young McMahan & Ceceylia Barczyk, The Accordion Pops Orchestra with Al Terzo conducting, Joe Natoli, The Crystal Strings featuring Frank Busso, Jr., Robert & Rocio Ford, Mark Nejako and Nick Sungenis, Ken Kunec, The Potomac Accordion Ensemble with Joan Grauman directing and the United States Army Strings under the direction of SGM Manny Bobenrieth . . . and let's not forget the Festival Orchestra conducted by Al Terzo. Be sure to sign up to perform with us at the Gala Banquet on Saturday.
The Youth Involvement Jazz Ensemble and Junior Orchestra programs are jam-packed with students this year . . . just goes to show you that the accordion is alive and well in the United States! I hope that all of our teachers will promote participation in these magnificent programs . . . where else can you get learning experiences like this, make friends from around the U.S. and have fun at the same time? Here's a recent quote from a participant in both last year's and this year's festival: "Thank you for giving our children a magical week of accordion music and fellowship." I think that says it all!
The Faithe Deffner Memorial Competition will be an important part of this year's Festival. The awards are outstanding, and the qualifications have brought some of the best accordionists from around the globe to Alexandria – to play and to adjudicate!
A special thank you to Kevin Friedrich and Linda Soley Reed for their continued excellence in producing the AAA Newsletter. Of course, they need YOU to submit what is happening in the accordion world - AND - our members want to know what you are doing with your accordion. We have members presenting programs at schools and events where young people are exposed to our beloved instrument, even special symphonic performances with high school students and local symphonies. The trend is energizing, and we each need to do our part to bring the accordion to the general public in a good light.
I want to remind you that an organization like the AAA needs EVERY member, so pitch in . . . put on a program at a local school, submit an article for the Newsletter, come to our events . . . celebrate the accordion!
Keep up with the AAA events by regularly checking out the website. We have many events in preparation . . . and they are all for YOU! October 2-4 will be the Carrozza Memorial Weekend featuring the Carrozza Competition (this year with two divisions – up to 15, and an Open division), a display of memorabilia from Carmen's lifetime of work on the accordion, an open meeting with a presentation on "The Life and Music of Carmen Carrozza", and a memorial concert, reception and dinner that you do not want to miss! The event will be in Carmen's "backyard" at the Doubletree by Hilton in Tarrytown, NY right at the peak of Autumn Splendor in New England. If you've never been to New England in the fall, you don't know what you are missing! It is a celebration weekend in the area, and there are numerous local events you can participate in, and view the spectacular fall foliage in addition to all the accordion happenings.
2016 will feature a Lifetime Achievement Event in the Spring honoring Mario Tacca, an accordion champion who has made his living on the accordion for his entire lifetime, bringing quality music and entertainment to the general public around the world; "Chock Full O' Learnin'" at the Tenri Cultural Institute August 7-9; a Valtaro event planned for the Fall, date and place to be announced; our Festival, of course, next year in Buffalo, NY, just adjacent to Niagara Falls (July 6-10, 2016).
Hope to see you there!
Musically,
Mary J. Tokarski