UPCOMING EVENTS
November 26, 2016 – A Valtaro Celebration at Magnanini Winery in Wallkill, NY – great food, great music, great fun. Be sure to join us!


Announcements

More Prizes!! The Elsie M. Bennett Composition Competition announces $250 cash awards for the winning composers in the competition. Entry Forms available on the Bennett Competition Events Page.
AAA Newsletter

Previous AAA Newsletters are now online under NEWS.
SPECIAL OFFER
For AAA Members and Friends
FROM THE PRESIDENT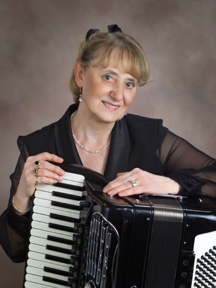 AAA presents Buffalo SqueezeFest Award Winners
This year's AAA Competition heralded the "best of the best" from around the U.S., Canada and Slovakia! The Adam's Mark Hotel in Buffalo was the site for the competition, workshops and array of exhibits. Guest Artists for "An Evening With The Stars" concert at The Tralf included incredible performances from Grayson Masefield (New Zealand), Cory Pesaturo (Rhode Island), Ginny Mac and Glenn McLaughlin (Texas), Guy Klucevsek (New York), Dr. Robert Young McMahan and Nora Sirbaugh (New Jersey), and Alexander Sevastian with Quartetto Gelato (Toronto, Canada). The full house audience was spellbound with the variety and virtuosity of these incredible artists.
The week's activities started with a "Meet and Greet" party, where accordionists entertained attendees and guests from the local press with music of all genres. Representatives from the local NPR, The Buffalo News, TV cameras from national and local stations (WGRZ – NBC, Channel 7 – ABC Eyewitness News), radio interviews, and calendar listings in Artvoice added to the excitement, and brought in the participation of many "locals" to see and hear our amazing instrument!
For the competition, students were adjudicated on the quality of their performance, age, and years of study. With this in mind, the judges awarded Bronze and Silver medals, with Trophies for the Superior performances.
Here are the results:
Open Solos
Silver Medals - Daniel Benedetti and Liam McCool
Superior Trophies - Reagan Ciccone, Max Hoffman, Gia Ciccone, Alexander Lammers, Joseph Klettner, Nathan Chapeton, Cody McSherry, Denis Marko Dubjel and Will Comer
Founder's Solos
Silver Medal – Anton Klettner
Superior Trophies – Nathan Chapeton, Daniel Benedetti, Liam McCool and Will Comer
Ethnic Solos
Bronze Medal – Gia Ciccone
Silver Medals – Joseph Klettner, Anton Klettner and Will Comer
Superior Trophies – Nathan Chapeton, Cody McSherry, and Denis Marko Dubjel
Pop Solos
Silver Medals – Gia Ciccone and Max Hoffman
Superior Trophy – Denis Marko Dubjel
Jazz Solos
Silver Medals – Daniel Benedetti and Will Comer
Standard Solo
Superior Trophy – Damaley Richards
Adult Solo
Silver Medal – Monique Bellemare
Superior Trophy – Reine St-Louis
Open Duets
Silver Medals – Max Hoffman & Alexander Lammers, Joseph & Anton Klettner, and Gia Ciccone & Cody McSherry Open
Mixed Duet
Superior Trophies – Joseph and Anton Klettner
Senior Ensemble
1st place – Busso Senior Ensemble
Entertainment AAA – Participation
Busso Festival Orchestra


Join the AAA for the 2017 Festival at
The Westin Princeton at Forrestal Village in New Jersey July 12-16, 2017
See you there!