Open Meeting Overview - July 16, 2017 - Princeton, NJ
President Mary Tokarski thanked all participants in another successful AAA event here in Princeton.

Special thanks to AAA Board members: Linda Reed – Marilyn O'Neil – Joan Grauman – Frank Busso Jr. – Alex Chudolij – Joe Ciccone – Beverly Roberts Curnow – Don Gerundo – Bob McMahan – Mario Tacca – Jeanne Velonis.

Guest Conductors: Dr. William Morse, Festival Orchestra (Colorado), Mitch Guido, Youth Involvement Program Jazz Ensemble (New York), Mary Tokarski, Junior Festival Orchestra (Connecticut); Guest Artists: Dr. Robert McMahan, Cecylia Barczyk, Emmanuel Borowsky , Will Holshouser, Eddie Monteiro, Mitch Guido, Dallas Vietty, Bruce Gassman and Jamie Maschler; Young Artist Guests (Luncheon & Awards concerts): Cody McSherry, Mitch Guido, Rachel Quirbach, Will Comer, Anton & Joseph Klettner, Emmanuel Gasser, Nathan Chapeton;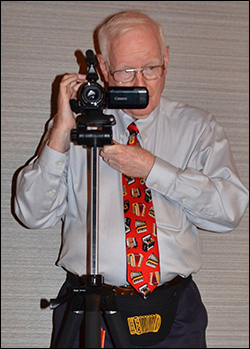 Workshop Leaders: Don Gerundo, Dr. Robert Young McMahan, Rachel Quirbach, Will Holshouser, Dr. William Morse, Joan Grauman, Bruce Gassman, Jamie Maschler AND our Exhibitors: Music Magic (Alex Chudolij), Liberty Bellows (Mike Bulboff), Squeezin' Art and the AAA Archives (Joan Grauman), Deffner Publications, Titano Accordions, Pigini Accordions (Frank Busso, Jr.) AND many thanks to each of YOU for attending. Without you there is no festival and celebration of our young and experienced accordionists! And let's not forget Dan Grauman (pictured) for meticulously documenting on video as many Festival activities as is humanly possible!

Publicity for the event was high – we were mentioned in the Wall Street Journal during the week, and it prompted a CBS television reporter to appear, interview and record the awards concert! The local publicity was spearheaded by Anne McMahan, who was able to obtain a full page article in the US Route 1 local newspaper – which included an interview with Dr. McMahan. Bob also appeared on the Princeton University Radio station for another hour-long show highlighting the accordion.

Our contestants were amazing – the performances were outstanding, and the winners of both the Carrozza Memorial Competition and the Bennett Composition Competition proved that the accordion is alive and well in our young artists! Congratulations to Emmanuel Gasser, Cody McSherry and Nathan Chapeton for taking home the top prizes in the Carrozza and Bennett Competitions! (See the pictures on the Carrozza and Bennett pages!).

Suggestions from the floor were requested. Here's what you brought to us: A Compliment to the student competitors as well as the guest artists for very impressive performances!

A request was made to create a workshop on "jamming"; The quality of the workshops was applauded; A suggestion to teach the local instrumental musicians involved in the jazz program some simple music on an accordion during the event.

Anyone with materials from past Festivals was requested to forward the information to AAA Archivist Joan Grauman and/or Linda Reed to compile a list of previous year winners and guest artists for our Archives.

Robert Harrington, representing A World of Accordions Museum in Superior, Wisconsin mentioned a desire by Curator Helmi Harrington to participate in our next event.

A special thank you to all who attended the Festival and our Farewell Breakfast, bringing so much excitement to our agenda for the future!

See you in Alexandria!