Picture above of AAA Founders: Front row: Pietro Frosini, Abe Goldman, Sydney Dawson
Center row: Anthony Galla-Rini, Charles Magnante, Pietro Deiro Sr., Charles Nunzio
Back row: Gene Von Hallburg, Joe Biviano
Not in photo: John Gart, Sam Rowland, Byron Streep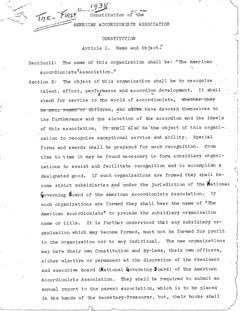 Picture left: Link to AAA First Constitution. This has been preserved from the original meeting complete with hand written alterations and changes. First Constitution

Also preserved is the printed First AAA Articles of Association ca 1938. This was printed in small booklet format with a green cover.

Why create this organization? The ideas were flowing and excitement was at an all-time high for the new instrument. "What can we do to make the accordion boom last?" was asked and discussed at each meeting.

First on the agenda was to develop standards of notation for the bass in sheet music for the accordion. Up until this time, some composers wrote out the basses in the treble clef, some used full chords, some used numbers for chords, while others used letters, and so on.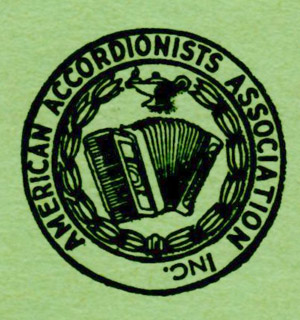 Picture left of original AAA logo.

The AAA Standardized Notation, using one note for chords with letter designations, was created and was required for all accordion music printed in the US. The AAA founders, and a rapidly growing group of new members, recognized the need for more original music for the accordion, better instruction and instructional manuals and, most of all, they were determined to elevate the status of the piano accordion in the music world to that of a serious instrument.

The first AAA president, Pietro Deiro (known as the "Daddy of the Accordion") lectured and wrote articles for music publications such as Metronome, Etude Magazine, and the Accordion World for decades. Charles Magnante, Sidney Dawson, Anthony Galla-Rini and Joe Biviano also wrote for these publications regularly with topics from "How to be a better radio accordionist" to "Accordions in public schools".

Many excellent articles by these founders can be found in the aforementioned publications from the 1930s and early 1940s.

So many of the early pioneers in the AAA dedicated their entire lives to this instrument, and worked tirelessly and passionately for the advancement of the accordion.

While many of the concerns we, in the AAA, have to this day about the acceptance and popularity of the instrument are the same as they were in the 1930s, one thing remains the same and likely always will: the versatile accordion is intensely loved and cherished by those who play it!!