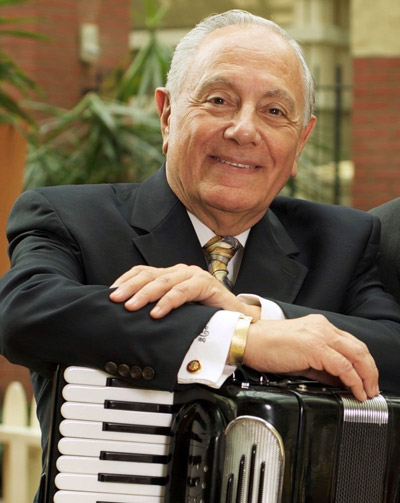 Among the many things that Lou Coppola of Falls Church, Va., has done during his long career in music was teach the first, and perhaps only, college class on "strolling strings," those perambulating players who enliven dinners, receptions and other public events.
It was at George Mason University. Lou covered how to properly enter a room ("We practiced almost like a drill team," he said), how to stay in tempo in a large space ("When we're spread all over the room it's hard to hear"), the importance of eye contact ("Look at the customers; don't frown").
Said Lou: "They had to look happy. We change from being classically trained violinists to entertainers. But we still have to play the music like we would if we were sitting in an orchestra."
The irony is that Lou isn't a string player at all. He's an accordionist. And at a banquet on Saturday in Alexandria, Va., the American Accordionists' Association (AAA) will honor him with its Lifetime Achievement Award.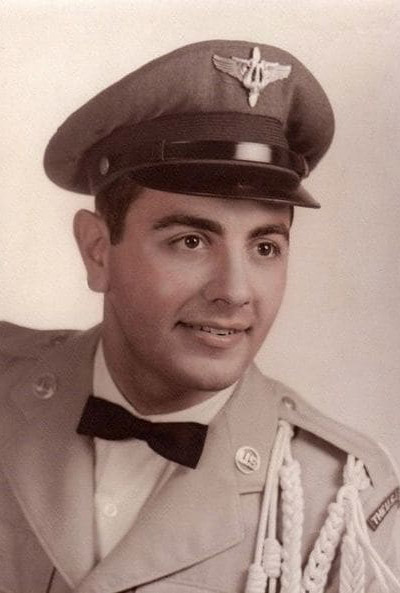 How did the Bridgeport, Conn., native become so wise in the ways of the strolling string? In 1956, Lou enlisted in the U.S. Air Force to play his instrument with the service's premier band, based in Washington at what was then called Bolling Air Force Base. During his 28-year hitch, Lou became the first accordionist to lead the Air Force Strolling Strings.
"I like to say I was as famous as the first man in space, but I was just the first accordionist," he said.During his 28-year hitch, Lou Coppola became the first accordionist to lead the Air Force Strolling Strings. (Family photo)
Lou played for nine presidents, and on the side ran his own strolling band, the Stereo Strings. He played weekly at Fort Myer Officer Club for an amazing 44 years. Not bad for a kid who wasn't sure he even wanted to play the accordion.
"It was only because my mother told me if I didn't like the accordion after a month, I could quit," he said. "The only problem was, I forgot to stop."
Lou was 10 at the time. That was 71 years ago.
Lou won his first AAA Virtuoso Competition when he was 15, then won it another three times. He was the first winner of that award to compete in the prestigious Coupe Mondiale, sponsored by the CIA. That's the Confédération Internationale des Accordéonistes. Lou was 18 when he traveled to Brighton, England, for the big contest in 1955.
"The thing that confused the hell out of me was it was my first time being with English- speaking — real English-speaking — people," Lou said. "I couldn't understand what in the world they were saying. After I was there for a couple days I finally got them."
Lou didn't win, but he helped pave the way for future American competitors. And he provided valuable tips in selecting the right piece to play for the judges. As in figure skating, the harder pieces were worth more points. His "Introduction and Rondo Capriccioso," a Camille
Saint-Saëns violin piece transcribed for the accordion, was a 7-pointer on a scale that went to 10.
The accordion has had its ups and downs, squeezed by the fickle nature of pop music. Old-timers remember when it was more popular than the guitar. That was before, as Lou put it, "the Beatles and that other guy — Elvis Presley — showed up."
But the accordion seems to be in the midst of a mini-revival.
"It is coming back, very much, in all kinds of music, in restaurants, everywhere" said Joan Grauman, an accordionist from Frederick, Md., and AAA's historian. "I'm hearing it more and more in commercials, which is exciting."
This is the 80th anniversary of the American Accordionists' Association and plenty of accordion-related events are on tap at its annual convention, underway at the Holiday Inn Hotel and Suites on First Street in Alexandria. Workshops include "Tango Rhythms," "Kurt Weill and the Accordion" and "Easy Accordion Repairs."
About 150 accordionists are in attendance, some from as far away as New Zealand. They'll be coalescing in impromptu combos and breaking out such accordion relatives as the bandoneon and the bayan. It's a colorful sea of shiny pearloid plastic.
A concert Friday at 6:30 p.m. is open to the public. Tickets are $25. For information, visit ameraccord.com. It will feature 60 accordions.
Said Joan: "We hope that people close their eyes and think they're sitting and listening to a major symphony orchestra."