UPCOMING EVENTS
July 12-16, 2017
Westin Forrestal Village
Princeton, NJ
ANNOUNCEMENTS

Carrozza Scholarship Dinner
April 30, 2017 will bring together some of our finest young artists for the Carrozza Memorial Scholarship Fund Raiser being held at
Villa Barone Hilltop Manor
466 US Route 6
Mahopac, NY 10541
Featuring our very talented young artists Gia Ciccone, Cody McSherry, Chris Gorton, Cory Pesaturo and more! Details and registration form are available on the Carrozza Scholarship Dinner page.
Elsie M. Bennett Composition Competition
The Elsie M. Bennett Composition Competition applications are now online on the Bennett Competition Events Page.
AAA Newsletter

Previous AAA Newsletters are now online under NEWS.
FROM THE PRESIDENT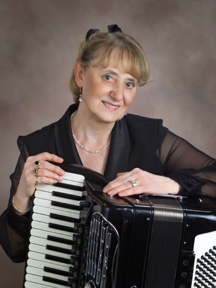 I hope that you have had a great holiday season, and that Mother Nature has not been too tough on you.  Here in the Northeast, winter started off quiet, but is now making up for lost time.  Lots of snow, lots of cold temperatures!

Well, it is time to plan ahead to warmer weather and spring festivities and events – and AAA is going to be busy.  We begin with the search for representatives to the Coupe Mondiale in September at picturesque Osimo, Italy (near Castelfidardo, home of the accordion). 

On Friday evening, March 31st, 2017, the AAA will sponsor a Coupe Mondiale Qualifying Event at the Hanover Marriott in Whippany, New Jersey.  Today's young accordionists are some of the most talented I have heard in a long time!  If you (or someone you know) want to participate as a contestant, the AAA will audition accordionists for all 7 categories.  Check out the Coupe Mondiale website www.coupemondiale.org for complete requirements for each division, and this website for the entry forms.  E-mail: ameraccord1938@gmail.com.

To continue the lineup, you don't want to miss the Carrozza Memorial Scholarship Fund Raiser on April 30th at the lovely and elegant Villa Barone Hilltop Manor, 466 US Route 6, Mahopac, New York 10541 from noon to 5 p.m.

Enjoy a fantastic menu of appetizers, salad, your choice of Chicken Sorrentino, Filet Francese (catch of the day), Center Cut Breaded Pork Chop or Breaded Eggplant Parmigiana for your main course, coffee and dessert, with wine on the table - $75 per person, $45 for children under 10.  For reservations, contact Dr. Joseph Ciccone, Chairman, 175 King Street, Chappaqua, NY  10514 – telephone 914-238-0041, fax 914-238-0494 – e-mail: drjciccone@aol.com

Enjoy music by strolling musicians Frank Busso, Sr. and Emilio Magnotta; Featured Young Artists:  Cody McSherry, Gia Ciccone, Christopher Gorton and Cory Pesaturo; Special AAA Guest Performers:  The Connecticut Accordion Orchestra conducted by Peter Peluso; and . . . dancing to entertainment by:  Mario Tacca & Mary Mancini, Frank Toscano, Emilio Magnotta, Frank Carozza and family!

All profits will benefit the Carrozza Memorial Scholarship Fund.  These funds are awarded to the winners of the Carrozza Memorial Competition, this year featuring $8,000 in cash prizes!  (See below for more details on the competition.)  Thank you for your support, and we hope you will join us to hear these marvelous young performers in concert on April 30th, as well as in competition in July!

July 12-16, 2017, the Westin Hotel at Forrestal Village in Princeton, NJ becomes the headquarters for the 2017 AAA Festival.  Competition categories for everyone, workshops, concerts and entertainment to please the diverse interests of our attendees, and performances by the Youth Involvement Program Jazz Ensemble and Junior Orchestra, both of which feature our up-and-coming young accordionists along with young instrumentalists from the Princeton area.  One of this year's highlights will be a "Youth Track" being presented by the AAA's Youth Outreach Program with activities for all our young participants.  Stay tuned to the AAA website for more details soon!

Join the AAA in celebrating the legacy of Carmen Carrozza by participating in the competition sparked by the Maestro himself!  The competition will feature $8,000 in Prizes.  Rules and Regulations are available here online. Please go to the Events page, and select Carrozza Competition.

The AAA YouTube Channel has taken off to a flying start. Featured performances from our events have drawn lots of attention from the U.S. and around the world! Join us in Princeton for more opportunities to be represented in AAA's music.

We hope to see YOU at the annual AAA Open Meeting on Sunday, April 2nd at 3 p.m. at the conclusion of the MAMTG Festival at the Hanover Marriot in Whippany, New Jersey.  Everyone is invited to attend. 

Your voice counts . . . we are making a difference! Help us plan the future of the accordion!