Past President's Message
After ten years of serving as your President, it's time to step aside and welcome our new officers that will take affect on January 1, 2015.

I have thoroughly enjoyed serving as President and I plan to continue all the projects and programs I have worked on throughout my term.

I will continue working for AAA but it's time that we have someone else take the helm with new ideas and events, so please welcome the 2015-2016 slate of officers:

President Mary Tokarski
1st Vice Pres. Dr. Joseph Ciccone
2nd Vice Pres. Linda Soley Reed
Secretary Dr. Robert Young McMahan Treasurer Frank Busso

UPCOMING EVENTS
AAA Festival – Alexandria, VA
Our 2015 Festival in Alexandria will be a "spectacular" event with over $25,000 in cash and prizes which has been generously donated in Faithe Deffner's memory by a long-time friend of the accordion and AAA member who wishes to remain anonymous. More information regarding performers, guest adjudicators and committees will be forthcoming after January 1st.

Master Class & Concert at Tenri
Dr. Schimmel's Master Class and Concert at Tenri Cultural Arts Center in NYC will be held August 7-9, 2015 and this year's theme will be Chock full O'Learnin'. Reservation forms will be included in the January-February newsletter.

Carrozza Scholarship
Competition & Concert
Also on the agenda for AAA in 2015, will be the Carmen Carrozza Scholarship Competition and Memorial Concert which is tentatively scheduled for October 3-4, 2015 at the Double Tree in Tarrytown, New York. Dr. Joseph Ciccone will be chairman of this event which will include a Dinner/Concert on October 4th.

AAA Newsletter
I want to encourage all of our members to support the AAA Newsletter by sharing your activities and programs of interest to others. And remember, we are all volunteers so as hard as we try to keep on schedule, there are always circumstances that stand in our way. So please send your information to Kevin Friedrich as often as you like and as early as possible. It has been my pleasure to serve as President of the American Accordionists' Association and I will keep doing whatever I can, in whatever capacity, to support the AAA.


SPECIAL OFFER
For AAA Members and Friends
FROM THE PRESIDENT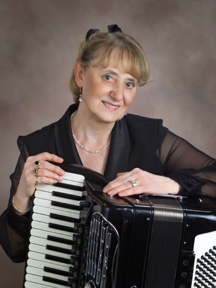 Welcome to the AAA website! I would like to take this opportunity to thank Linda Soley Reed for her tremendous 10 years as AAA President. So much has taken place, so many new ideas have been implemented, and we have grown as an organization and with our music.

I am really excited to take over the Presidency from Linda, and to be able to lead an association of this caliber toward new goals. It is an honor and a privilege that I am truly looking forward to, along with the opportunity to meet each and every one of you personally. As you all know, an organization like the AAA needs EVERY member, so I am counting on each of you to step up and help in advancing the accordion to the front of the music scene here in the United States, and keep alive the prestige we hold in the world accordion community.

The AAA is like a second "home" to me . . . as a young girl I remember the frequent trips to competitions, concerts and workshops, meeting all the accordion "giants" of the day, and simply "growing up AAA". As I progressed with my music (in many ways because of my AAA experiences), my plans for my music and my life expanded. All those dreams have now come true for me . . . the last "dream" was someday becoming President of this wonderful association!

Now it is time to look for the future. There are many ways that we can all work to benefit not only the AAA, but the accordion in general. First and foremost, is to be the best musicians we can and put our best foot forward each time we perform and especially to take every chance to perform for young people here in the U.S. They are our next generation and need encouragement to not only follow in our footsteps, but to take us into the next decade as well!

Part of the new direction we are looking at is developing more qualified accordion instructors throughout our nation and promoting the accordion through public programs and awareness. Our world today is abounding with social media opportunities. If you have a "bright idea" on how to help promote the accordion, feel free to submit it to the Governing Board by sending your idea in an email to me at mary.tokarski@comcast.net . We want (and need) to hear from you. This is YOUR organization.

AAA will continue to sponsor the events we have come to know and love – the annual Festival, our Valtaro Celebration, workshops and open meetings, each with a special focus and learning opportunity for us all.

This year will also feature the Faithe Deffner Memorial Scholarship Competition in conjunction with our Festival in Alexandria, Virginia July 8-12, 2015. The awards are outstanding, and the qualifications assure that the best accordionists from around the globe will be in attendance.

In early October, 2015 the Carmen Carrozza Memorial Concert and Scholarship will honor our beloved Carmen. The event will be held in Tarrytown, New York – Carmen's home territory, and will include a special competition, invitational concert, reception and dinner. Stay tuned for details.

Again, I am honored to be serving as your President for the next term, and look forward to working together to expand and enhance the accordion here in the United States.

Musically,
Mary J. Tokarski