2022 Festival Competition Goes Virtual after AAA Festival 2022 Postponed to 2023
Attention Festival Competitors
Festival 2022 Competition Categories will be virtual this year.
Rules, Categories and Required Composition List.
Download: 2022Rules&Entry.pdf Includes Entry Forms.
Entry Form submission deadline: August 1, 2022. Video submission deadline: August 15, 2022.
Due to the AAA's commitment to the health and safety of our many loyal attendees and guest artists, and to help support our nation's efforts to stem the spread of COVID-19, our AAA Governing Board had to make a difficult decision. The 2022 AAA Festival has been postponed and will be rescheduled, along with the AAA Lifetime Achievement Award Dinner in honor of Frank Busso,Sr., for the summer of 2023. More information will follow shortly.
Thank you for your understanding and continued support of the AAA! Stay safe and keep practicing!!
Sincerely,
Dr. Joseph A. Ciccone
AAA President
Postponed to 2023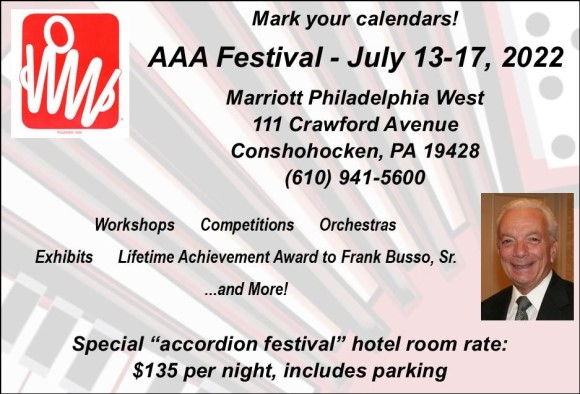 July 13-17, 2022, Marriott Philadelphia West, 111 Crawford Ave, Conshohocken, PA 19428. By Joan Grauman, AAA Historian.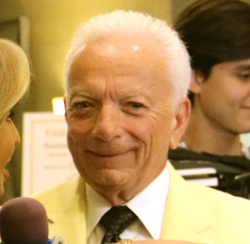 Save the dates. Frank Busso, Sr. to receive the AAA Lifetime Achievement Award at the AAA Festival 2022
I am sure I speak for all when I say that accordionists cannot wait to get back together, in person, again SOON!! The members of the AAA Governing Board are no exception.
As we are enthusiastically planning the 2022 AAA Festival, we are very excited to announce that the AAA will be honoring long-time AAA Board member, Frank Busso, Sr., at this event with the 2022 AAA Lifetime Achievement Award.
Frank has faithfully served the AAA as Treasurer, Vice-President, President (1981, 1992-94), and has also chaired many committees including the annual national festivals, and the Young Artists Concert Series. He held the position of the Comptroller of the AAA for many years. For decades, Frank has been an educator, performer, conductor and all-around ambassador of the accordion.
View the feature article from the 2017 AAA Festival Journal now online at: "Spotlight on Frank Busso". It is an enjoyable, heartwarming and enlightening biography of a man whose life revolved around his love of the accordion, the national accordion community, and his family.
You might ask, "What has happened since 2017?" One delightful bit of news: Frank's twin granddaughters, Julianna and Francesca, are now studying the accordion with their father, Frank Busso, Jr. All of the Busso grandchildren are now accordionists! Let's hope we can hear the "Busso Octet" perform for us at the 2022 AAA Festival!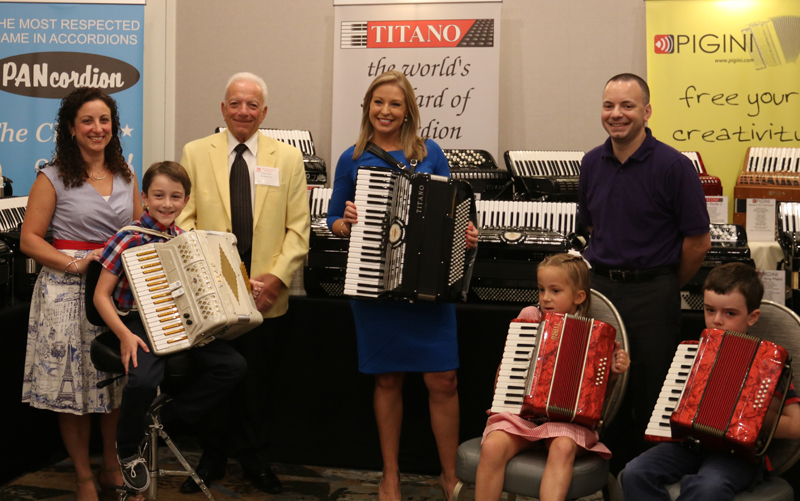 L to R: Christina Busso Lammers, Alexander Lammers, Frank Busso, Sr., TV reporter from Washington, DC, Caroline Lammers, Frank Busso, Jr., and Nicholas Busso at the 2018 AAA Festival, Alexandria, VA.