Message from the President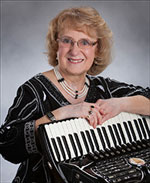 A big "Thank You" to everyone who helped make our 80th Anniversary Festival a smashing success!
Be sure to check out the day-to-day videos and photos so professionally executed by Harley Jones and his team from Accordions Worldwide. . . just click on Events, Festival, and then "Daily Reports" for the amazing artists, concerts, fun events and a complete coverage of the event!
Direct Link: Daily Reports: AAA 80th Anniversary Festival
Congratulations to Louis F. Coppola for being the recipient of the AAA's Lifetime Achievement Award at the Festival . . . it was an evening everyone will remember – especially Lou – who took the stage once again to perform with the current United States Air Force Strolling Strings without missing a beat.
Next on our calendar of great events featuring the accordion is the Carrozza Memorial Fundraising Event on September 9, 2018 at the Famee Furlane of NA Club, 2010 127th Street, College Point, NY. Cocktail Hour at noon (Don Gerundo entertains), Dinner and Dancing from 1-3 p.m. with the music of Mario Tacca and Mary Mancini . . . and then . . . check out the "Breaking News" page and click on 2018 Carrozza Scholarship Dinner for reservations!
Our featured Guest Artist is Petar Maric – winner of 8 separate world titles, and the first contestant in the 65 years of CIA Coupe Mondiale history to win all 4 solo categories – Junior Coupe, Senior Coupe, Senior Variety and the Digital Coupe. Make your reservations today - You don't want to miss this!
Plans for AAA's Festival 2019 are under way. Hotel information for the Valley Forge Casino Resort (Radisson Hotel) is currently available on the Festival page, and more details will be posted as they become available. Guest Artist for the event will be Michael Bridge from Toronto, Canada, and the Guest Conductor for the Festival Orchestra is Vesna Mehinovic from Hamden, Connecticut. Michael tours the world as a soloist, with a duo and lots of guest appearances with orchestras. He is a dynamic performer, and has a tremendous wealth of knowledge that he will share with us in Valley Forge. Vesna was honored to be the first woman conductor in her native country of Bosnia and Herzegovina. Along with her amazing conducting skills and awards, Vesna played accordion as a youngster and has featured accordionists with the Hamden Symphony Orchestra. You can read more about Michael and Vesna in the July/August newsletter.
See you on September 9th!
Mary J. Tokarski