Music Commissions Home | Music Commissions Brief History | Music Commissions Articles List | Composer's Guide to the Piano Accordion
2023 AAA Elsie M. Bennett Composition Competition Winners Announced
The results of the 2023 American Accordionists' Association (AAA) Elsie M. Bennett Composition Competition are:
1st place: Le Accordeon du Diable, for accordion and electronic track, by João Pedro Oliveira
2nd place: Walt's Curse, accordion solo, by Jacob Bean
Honorable mention:
Flicker, free bass accordion solo, by Kaidson Davis
Two Legs, One Peg, Two Arms, accordion solo, by Cody McSherry
-----------------------------------
Details: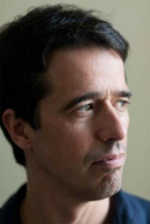 Le Accordeon du Diable, for accordion and electronic track, by João Pedro Oliveira
Sound file: Le Accordeon du Diable (Maria Martonová, accordion)
Portuguese-born composer João Pedro Oliveira is Professor of Music in Composition at the University of California Santa Barbara. He holds advanced degrees in architecture (Lisbon School of Fine Arts), organ performance (Gregorian Institute, Lisbon), and music theory and composition (State University of New York Stony Brook).
Oliveira's music explores multiple facets of the interaction between acoustic instruments and electronic sounds, and, further, relationships between sound and images. His entry into this competition is a fine and captivating example of the former description. The accordion and the many scintillating and varied electronic sounds are well balanced and either contrasted from or blended with each other beautifully throughout.
Contact email: jppo@ucsb.edu
-----------------------------------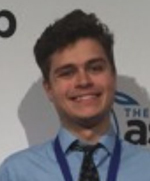 Walt's Curse, accordion solo, by Jacob Bean
Sound file: WaltsCurse
A resident of Puyallup, Washington, Jacob Bean is a 28-year-old composer, trombonist, and as of late, self-taught accordionist. He studied Trombone Performance and Composition at Central Washington University. However, because of his love for the accordion and enjoyment of playing "oom- pah" music, he taught himself to play marches, waltzes, rags, and polkas, with a predilection for the "Schweizer" (Swiss) style, on a used chromatic accordion he purchased online. He recently participated in the Leavenworth International Accordion Celebration competition where he placed first in the solo and band categories.
Walt's Curse (based on a tragic character, Walt Stone, in a series of fantasy novels by Rick Riordan entitled the "Kane Chronicles") is the first solo accordion work, as well as waltz, Jakob composed for that instrument and is superbly inventive and enthralling. He explains that he drew much of his inspiration from Russian Band waltzes as well as such "Russian greats" as Tchaikovsky and Shostakovich. The piece begins with a haunting theme that returns frequently throughout in variation, each time becoming a little more, in the composer's words, "twisted and devious." To this end, the composition exhibits several idiomatic accordion techniques, such as bellows shake, crossing the left hand over to play on the right-hand manual while the bellows fall open on their own to maintain air flow through the reeds, and more. Though conceived for the chromatic accordion, the score is devised to be equally playable on the piano accordion.
Contact address: trombone29@icloud.com
-----------------------------------
Sound file: Flicker, free bass accordion solo, by Kaidson Davis
Kaidson Davis is an accordion student of Joanna Arnold at the Acme Accordion Studio.
Flicker is an exciting, highly inventive etude similar in some ways to a passacaglia whose brief recurring bass motif propels the lines through many metamorphoses in rapid right-hand "flickering" arpeggios, creating a luminous, colorful effect.
Contact address: kaidson@protonmail.com
-----------------------------------
Two Legs, One Peg, Two Arms, by Cody McSherry
Sound file: accordion solo Cody McSherry
Cody McSherry, accordion student of Mary Tokarski, is a long-time participant in the AAA competitions and programs and is presently attending college.
Two Legs, One Peg, Two Arms is a delightful and clever jaunt, similar to a rag, with many variants, and fun, rhythmically stumbling "peg-leg" moments caused in part by the unusual, uneven time signature of 15/16.
Contact address: cosyarthurmcsherry@gmail.com
-----------------------------------
2023 Competition Information, Awards, Regulations and Entry Form at: 2023Bennett.pdf
The American Accordionists' Association (AAA) cordially invites your participation in the 2023 Elsie M. Bennett Accordion Composition Competition and to contribute to the growth of contemporary concert works for solo accordion or for the accordion being featured with other instruments. Entry payment can be made by credit card at the AAA Store
Entry closing date is June 01, 2023.
Winners will be notified by email on or about July 01, 2023.
Elsie M. Bennett Memorial (1918 - 2005)
2022 Elsie M. Bennett Composition Competition Winner Announced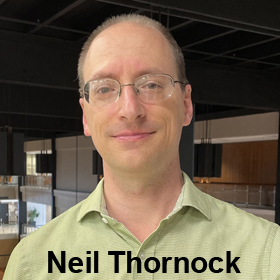 Neil Thornock, of Provo, Utah, won first place in the Elsie Bennett Composition Competition this year with his lovely, haunting accordion solo, Moon-k'ssed Conifers.
Neil Thornock has composed for a variety of forces including orchestral, electronic, chamber, and solo work. Much of his music is written for his own idiosyncratic keyboard technique on organ, piano, carillon, accordion, and other instruments. In 2019 he premiered his three-hour work Planetarium for organ and electronics.
Recently his work has explored alternative tuning systems, especially just intonation. In 2022, he premiered his work Primordial Bell for a piano tuned in high-limit rational intonation. Further projects in various tunings are underway.
Currently, Thornock is professor of composition and theory at Brigham Young University in Provo, Utah. He and his wife Tammy are the parents of seven children.
Neil Thornock writes: "I composed Moon-kiss'd Conifers to showcase the stunning and very reverberant acoustic of the central atrium in the Harris Fine Arts Center at Brigham Young University, a building which will be demolished in the beginning of 2023. The slowly shifting harmonies and supple melodies give space for the resonance to shine through. The result is nocturnal and perhaps a bit liturgical.
It's also a farewell tribute to a building I have worked in and loved for more than half my life. As a late-life beginner of the accordion who has an extensive music background otherwise, I have been on the lookout for music that is easy enough for my budding technique but musically challenging enough to sustain my interest.
I wrote this piece to suit my own accordion technique, which mostly consists of carrying over my organ technique to the accordion keyboard and a little bit of left-hand experience."
Sample page of the music. Email Neil Thornock to purchase the music: neilthornock@gmail.com
2021 Elsie M. Bennett Composition Competition Winners
From 2021, we have a sample page and sample sound file of the winning music. Also, the contact email of the composer.
2021
1st Open Division Kinga Broslawska, 24 years old, Poland. Composition pdf file free from the composer:
XYZ
Email:
a k.broslawska@gmail.com
Video of XYZ composed and performed by Kinga Broslawska.
2020 - Cancelled due to Covid pandemic
2019 – Open Division
1st – Daniel A. Mastrioanni – Awkward Moments, 2nd movement from Sonata #5
Sample Page
,
Sample sound file
Email:
damastroianni@optonline.net
2nd – Will Comer
3rd – Nathan Chapeton
3rd – Rachel Shutt
2018 – Junior Division
1st – Nathan Chapeton - Tango Pour Janet
Sample Page
,
Sample sound file
Email:
n.chapeton@aol.com
2018 – Open Division
1st – Massimo DeLillo - Visum et Impetus
Sample Page
,
Sample sound file
, Performance by: Fabio Zurlo
Email:
massimo.delillo74@gmail.com
2nd – Will Comer
3rd – Emmanuel Gasser
3rd – Joseph Ciccone
2017 – Junior Division
1st – Nathan Chapeton - Sonata No. 1
Sample Page
,
Sample sound file
Email:
n.chapeton@aol.com
2nd – Joseph Klettner
3rd – Anton Klettner
2017 – Open Division
1st – Emmanuel Gasser – Tango Frio
Sample Page
,
Sample sound file
Email:
emmanuel_gasser@yahoo.com
2nd – Massimo DeLillo
3rd – Joseph Ciccone
3rd – Will Comer
2016 – Junior Division
1st – Will Comer
2nd – Joseph Klettner
3rd – Daniel Benedetti
2016 – Open Division
1st – Emmanuel Gasser
2nd – Joseph Cerrito
3rd – Joseph Ciccone
2015
1st – Daniel Benedetti
Honorable Mention – Will Comer
Honorable Mention – Joseph Ciccone
2014
1st – Joseph Ciccone
Honorable Mention – Pamara S. Ritter
2013
1st – Andre Fry
2nd – Joseph Ciccone
2012
1st – Tor Stumo
2nd – Kathryn Marie Archuleta
3rd – Joseph Ciccone
2011
1st – Andre Fry
2nd – Peter DiGiovanni
3rd – Emmanuel Gasser
2010 – Junior Division
1st Andre Fry
2010 – Open Division
1st – Michael Bridge
2nd – Peter DiGiovanni
3rd – Joseph Ciccone
2009
1st – Martynas Levickis
2nd – Linda Ann Warren
3rd – Kathryn Marie Archuleta