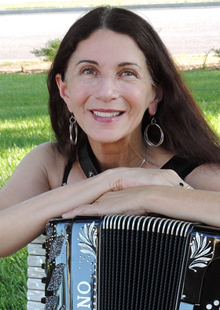 As the organization's historian, I have been writing historical articles on events that led up to the creation of the AAA and were important for the AAA. This includes some of its influential members, as well as special events throughout the decades, and more. Joan Grauman Morse, AAA Historian
Remembering the Wonderful, Unforgettable
Faithe Deffner
by Joan Grauman Morse
AAA Historian
Click each picture to see full size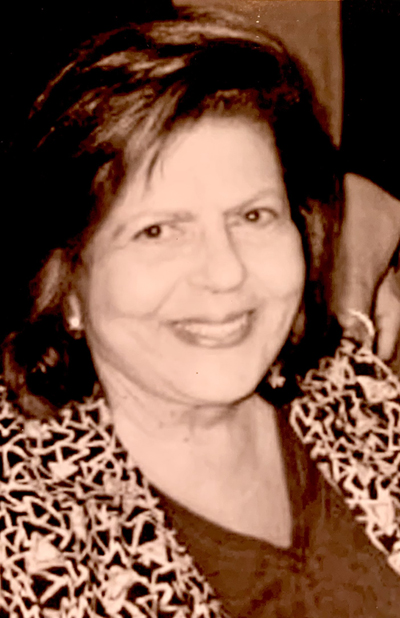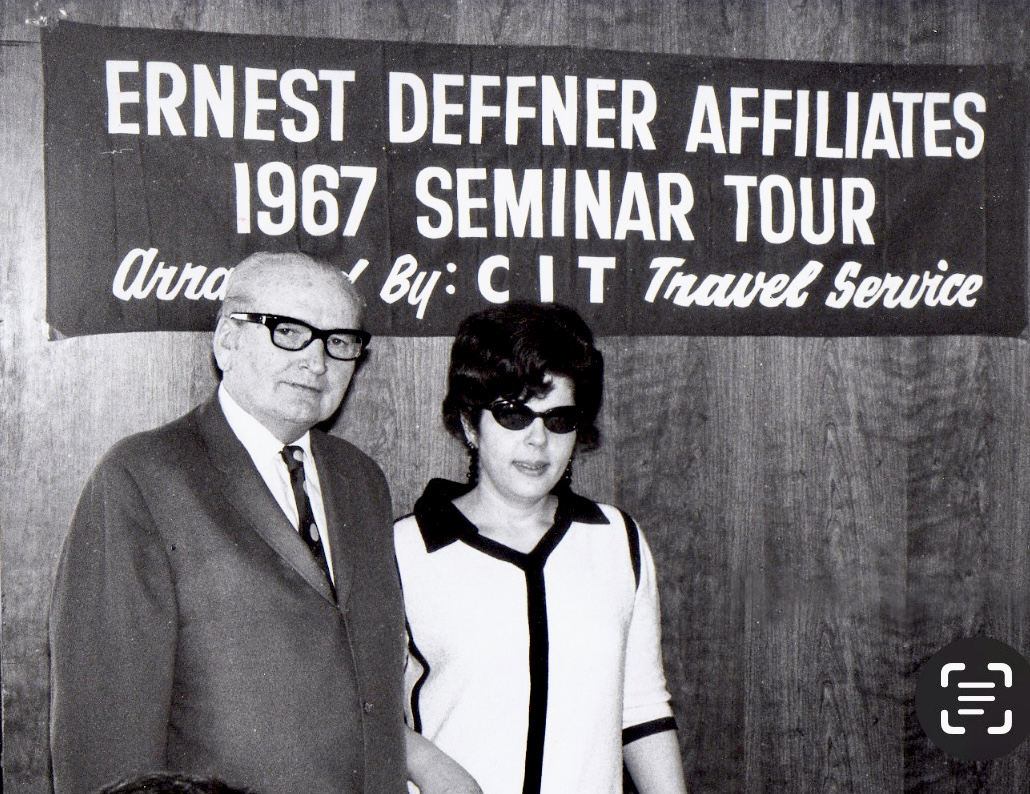 Ernest and Faithe Deffner, 1967
It is my pleasure to write about Faithe Deffner (1931 to 2014), a brilliant, colorful and strong-willed woman who was an incredible mover and shaker in the accordion world. She was tremendously influential in moving the AAA into new and unchartered territories over several decades. Faithe was not an accordionist herself, yet her contributions were numerous and monumental. She majored in journalism and owned an advertising agency prior to joining Ernest Deffner Affiliates, the musical instrument firm her husband founded in 1934. When Ernest passed away in 1971, Faithe became the president of Deffner Publications, Pancordion, Inc., Titano Accordion, Co. International and she partnered in Ars Nova Publications. Although her schedule was more than full, Faithe found the time to work tirelessly for the AAA as its President, chairperson of numerous committees, and the list goes on.
It has been very hard for me to write this particular article. Although Faithe passed away nine years ago, I still miss her very much. After years of working with Faithe, and often (very often!) butting heads together, Faithe became a mentor and a second mother to me. So, I took a deep breath, and sat down to read through the beautiful and heart-felt articles written about Faithe by Kevin Friedrich, Dr. Helmi Harrington and others — who, like me, admired and loved Faithe tremendously.
Click each picture to see full size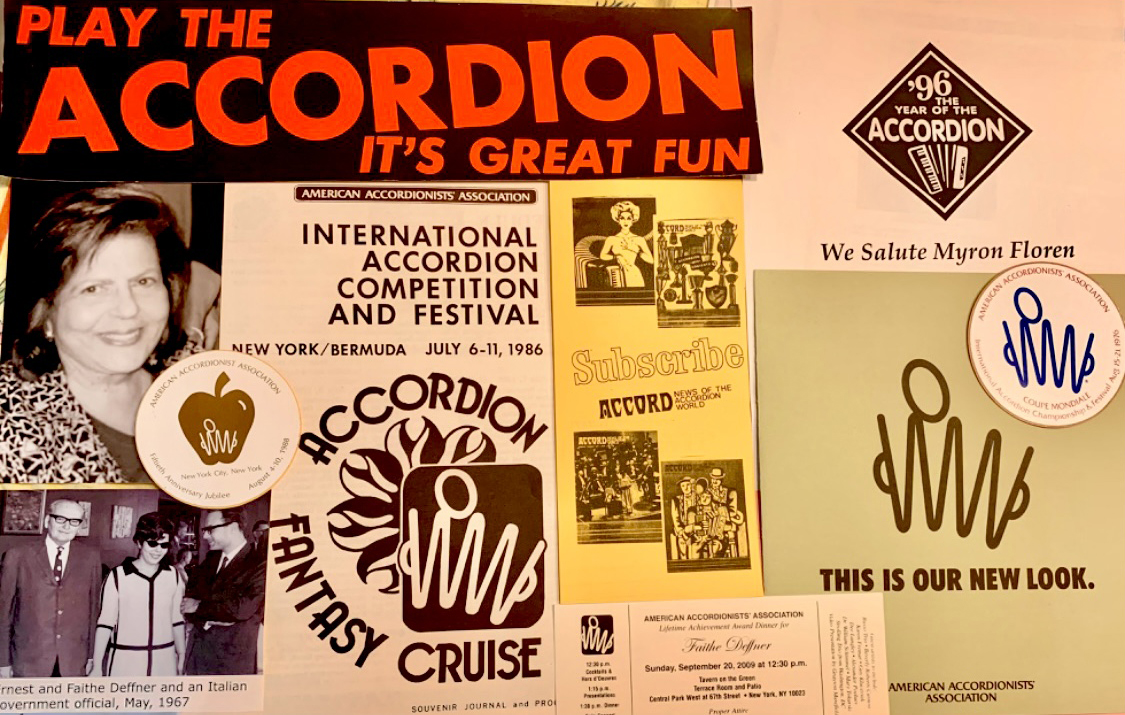 Collage of Faithe's creations (with a few photos)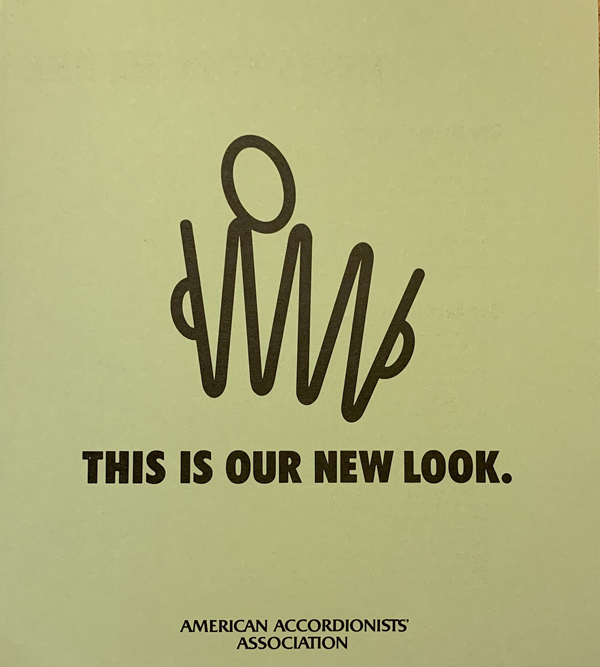 Faithe's AAA logo design, still used today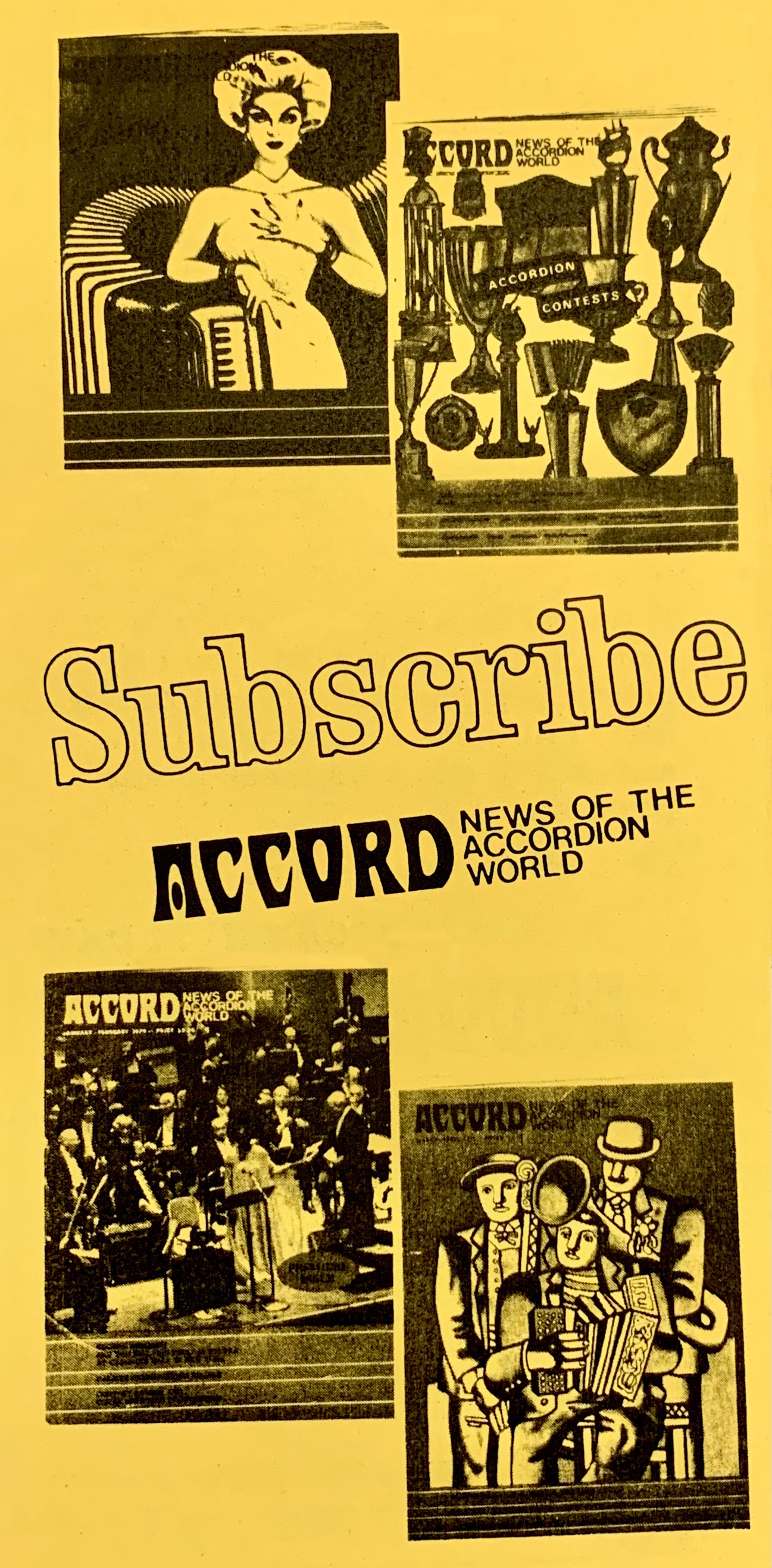 Faithe designed and edited the Accord Magazine, 1979
These articles are excellent. Honestly, nothing more needs to be written about her amazing accomplishments, her awards and innovations. Please read the articles that will be linked to mine, and please watch the video on Faithe's life that I prepared, with my then husband Dan, for her memorial that was held in Tarrytown, NY in July 2014. All of the music I chose for this video was beautifully played by accordionist Harley Jones, Faithe's "adopted son", from New Zealand.
| | | |
| --- | --- | --- |
| | A Celebration of the Life of Faithe Deffner hosted by Angelica Bargou was held on Sunday, July 13 2014 at the DoubleTree by Hilton, Tarrytown, New York, immediately following the AAA Open Meeting and Breakfast. The above video slide show prepared by Joan and Dan Grauman was shown at this important memorial event. Our grateful thanks to Joan Grauman Morse and Dan Grauman for supplying this. | |
What I will write in this article is a few of my memories of Faithe, and the memories of Faithe shared by Harley Jones, Joan Cochran Sommers, Kevin Friedrich and Carmela (Mrs. Frank) Busso. We may have lost Faithe nine years ago, yet her wisdom, drive, encouragement and love still guides us as we all continue to promote the accordion: the instrument that won Faithe's heart so many years ago.
Joan Cochran Sommers and Faithe Deffner spent many years traveling overseas to accordion festivals and competitions together, and worked side by side on the ATG Governing Board, on the 2007 Coupe Mondiale (held in the US), as well as many other events through the decades. Here are Joan's words:
Click each picture to see full size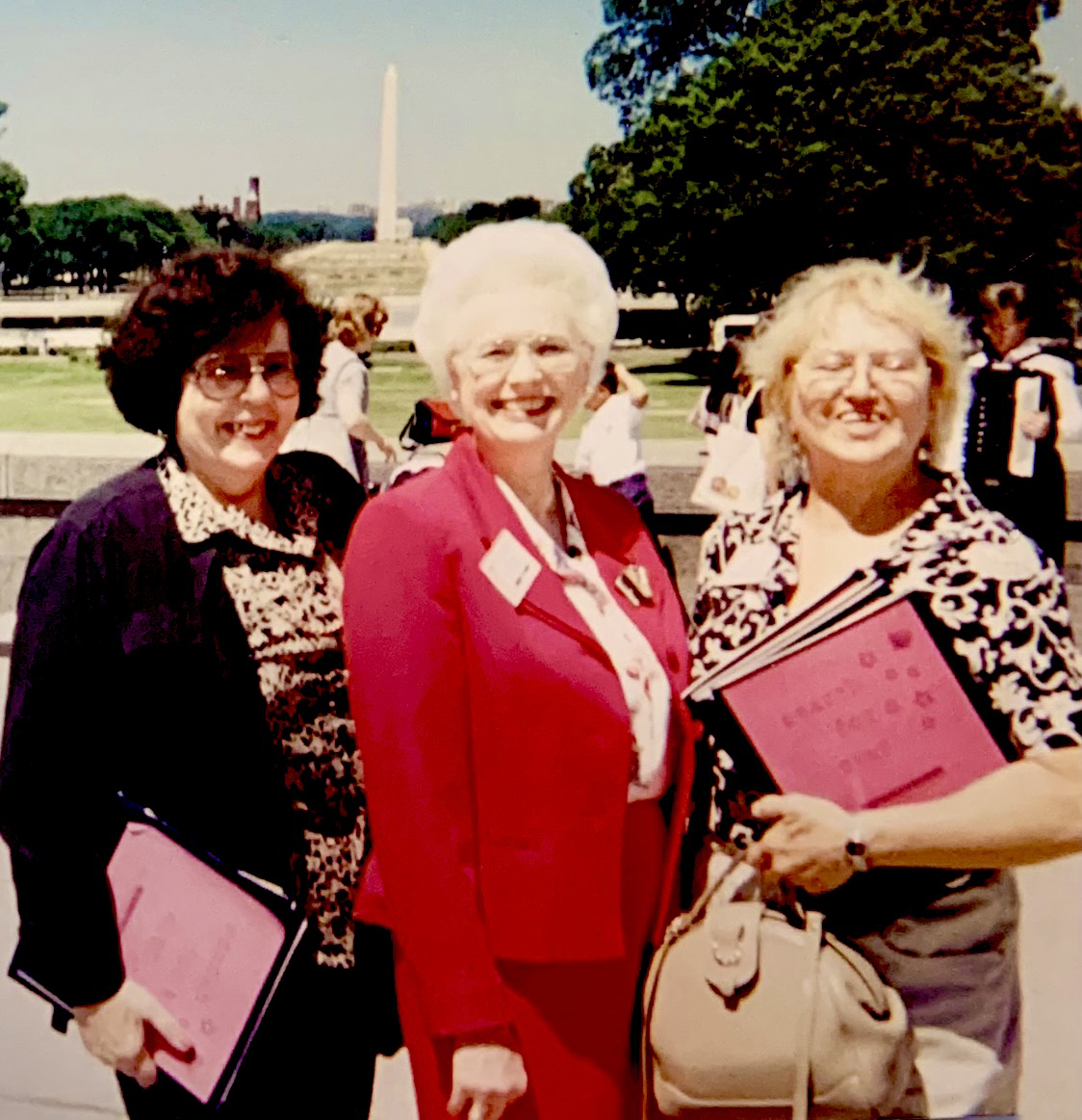 Faithe, Joan Cochran Sommers and Angelica Bargou in Washington, DC on the steps of the US Capitol, AAA Festival, 1997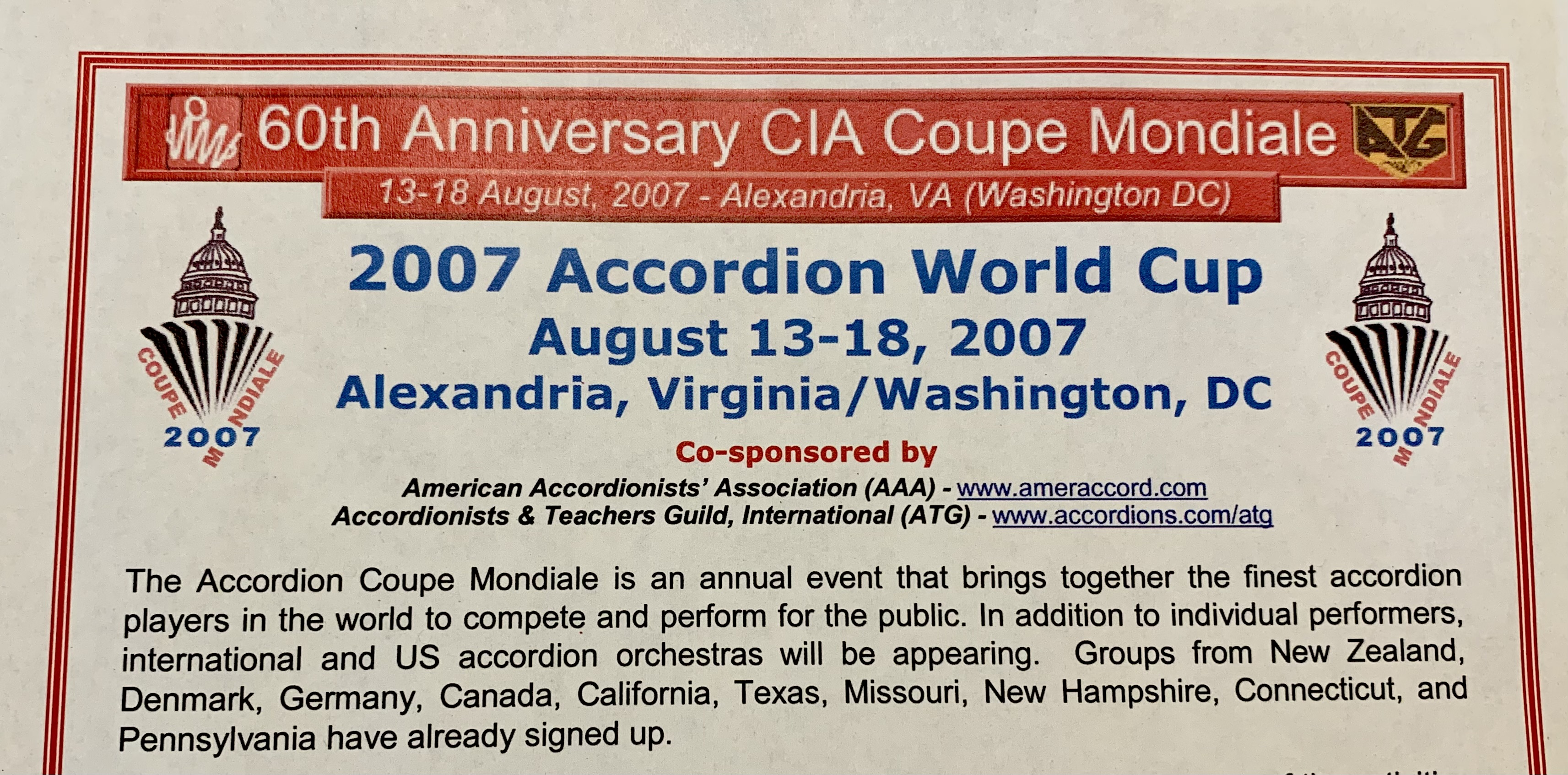 Flyer for the 2007 Coupe Mondiale, held in Alexandria, VA. Faithe Deffner was the event coordinator.
"My first memory, when recalling Faithe Deffner, is always how very intelligent she was! I remember many occasions when she could come up with an answer to a question or a concern raised during many organizational meetings, whether local, national or international. During the year the ATG and the AAA worked very closely together in order to bring the Coupe Mondiale to the USA in 2007, for example, Faithe served as the Coordinator. Linda Soley Reed represented the American Accordionists' Association (AAA) and I represented the Accordionists and Teachers Guild (ATG). It was Linda and I who had to run everything through Faithe and, frankly, it was not always easy for either of us! But in the long run, the Coupe Mondiale was a tremendous success, financially for both organizations, in addition to the many different schedules which had to be met before, during and after the event was completed. Faithe saw to it that every detail was dealt with properly.
Over many years of attending the Coupe Mondiale, held in various countries, Faithe and I, along with others including Maddalena Belfiore Greco and her husband Mauro Greco, traveled together. I suspect it was during those times that all of us became far more acquainted with Faithe than we might normally have. With Mauro driving, it was a circus with Maddalena and Faithe often disagreeing about which turn to take or who was the best accordionist. Needless to say, all of us had many laughs and some quite exciting times together.
I also remember Faithe because she was truly passionate about the accordion; she worked tirelessly for new developments in the accordion industry while supporting accordion organizations everywhere. She was a very fine writer and has been miss by many for her written words publicizing the instrument. In fact, she also conceived several publications which contributed to keeping the accordion in the news through various essays about the instrument, its music, its player, and numerous accordion events. Faithe Deffner is indeed missed by many!"
Click each picture to see full size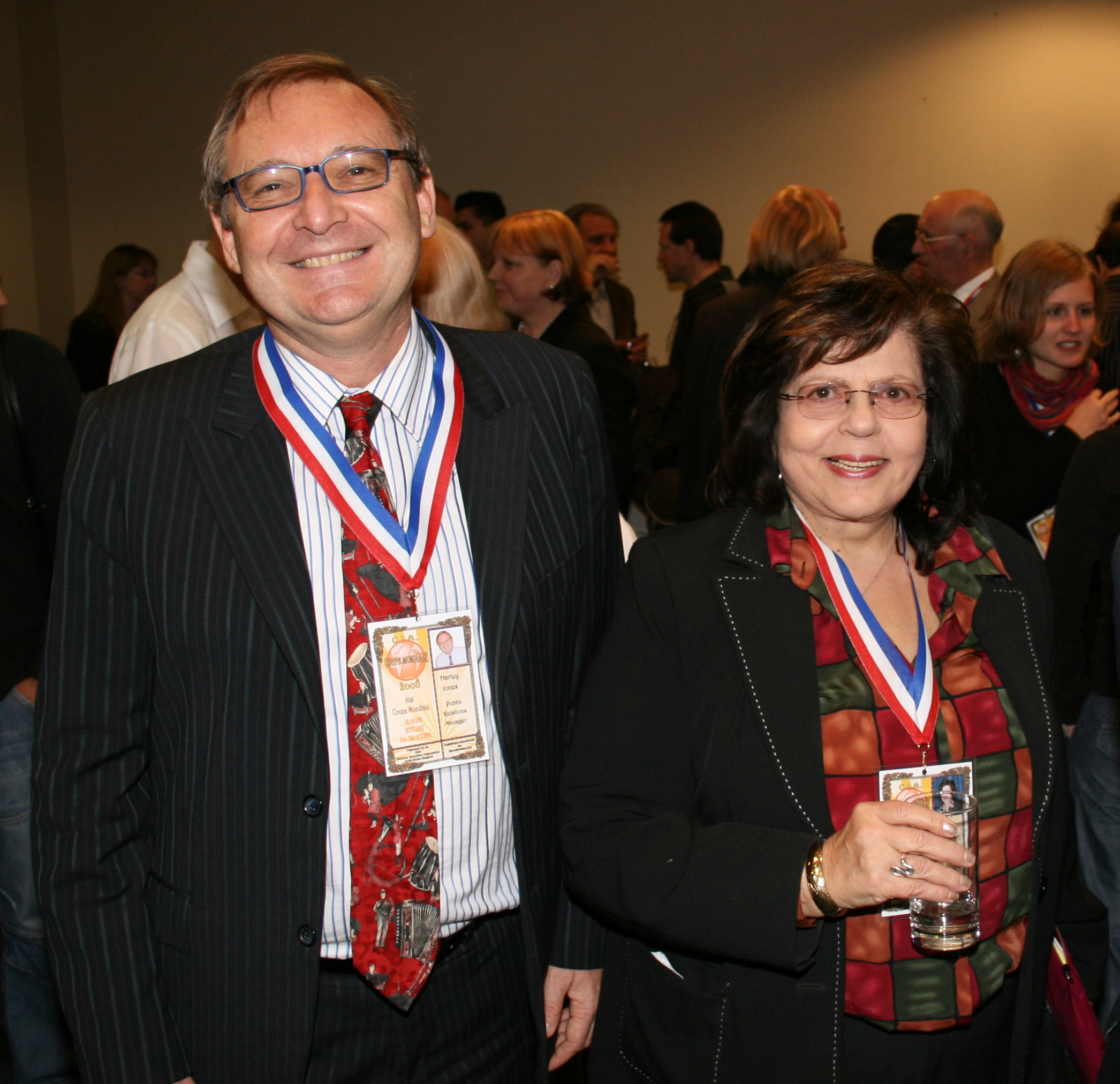 Harley Jones with Faithe, 2007 Coupe Mondiale.
Harley Jones and Faithe Deffner had a very pleasant working relationship as well as a "mother/son" relationship. Here are Harley's reflections, nine years after her passing:
"Much has been written about the many achievements of Faithe Deffner and her huge energy, fascinating and brilliant personality and how she worked with tireless energy for our beloved accordion.
I, therefore, wish to write about the unique personality of the amazing Faithe Deffner. I was incredibly fortunate to have had nearly forty years of traveling and working closely with Faithe Deffner, usually two or three times each year, for weeks at a time, from the 1970s to 2009. Faithe and I had a very loving mother/admiring son relationship, working and traveling together. I never stopped learning from her creative abilities.
Without doubt, Faithe was a lady well ahead of her time. Before women's liberation was prominent, Faithe Deffner, following the death of her husband Ernest, quietly took over managing the Ernest Deffner business. Faithe once told me the amusing story how, following the death of Ernest, she went to see the accountant about taking over running business. The accountant told Faithe that the only lady he knew who made money in business was a prostitute! Quick exit one accountant! Faithe was immediately inspired and determined, beginning an exceptional career as a business owner/CEO.
Faithe could really surprise, be inventive and let the moment take her. I remember at the 1979 Coupe Mondiale in Cannes, there was a ball with famous French accordionist Jose Basile and band in a beautiful old palace. Faithe leapt to her feet asking to dance to the wonderful music and she certainly had wings on her feet that night as we whirled around the floor. No one ever saw Faithe dance again!
Faithe was a personality with enormous abilities who did not suffer fools and was a brilliant negotiator and debater. Definitely not a person to argue with unless your facts were well organized. Then with friends she appreciated and admired, Faithe had a very endearing, loving personality that developed lifelong friendships and was dearly loved in return. These friendships were a great inspiration in her life to succeed and achieve.
The friends of Faithe Deffner will forever miss her unique personality and we thank her for all she did for our beloved accordion. May you Rest in Peace, Faithe."
Click each picture to see full size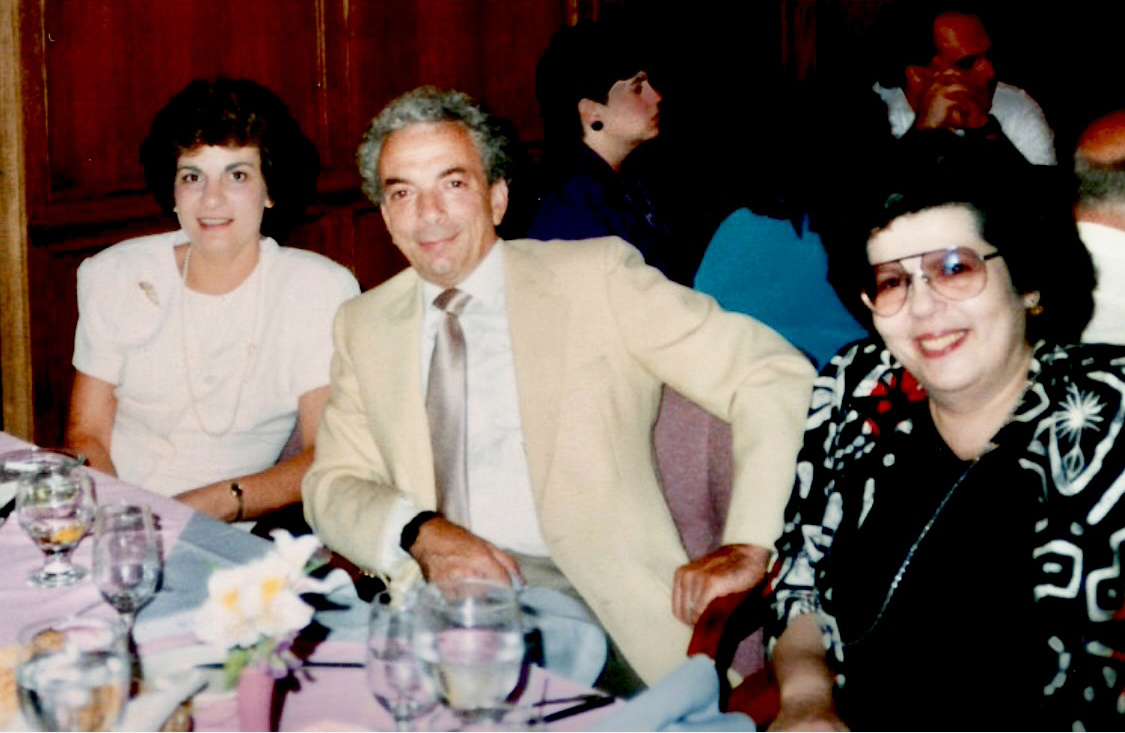 Carmela and Frank Busso with Faithe Deffner, 1960.
Frank and Carmela Busso befriended Faithe Deffner early in their marriage. The Bussos, and their children Christina and Frank, Jr., would spend holidays and vacations with Faithe and, of course, the annual AAA festivals. Carmela writes of her beloved friend Faithe:
"Faithe was an incredible business woman who was able to combine business with pleasure. Many of her close friends were part of the accordion community.
An innovative, creative personality, Faithe took pleasure in both indoor and outdoor activities. Fishing trips with her Canadian friend Lindy Baumgarten, as well as a pursuit of fine dining establishments, were part of the enigma that was Faithe. Her purchase of a pre-construction time share in Key West showed her ability to look into the future for good times in a tropical paradise. This spot always brought Faithe much peace, pleasure, local theatre and great food.
The Deffner home was always a favorite gathering spot for our family. When Christina was an infant, we would travel to Long Island with a playpen and enjoy great food and great conversation — Faithe was well read and enjoyed lively political discourse.
Faithe hosted the New Zealand Orchestra at her home while they were on a US concert tour. After a concert at Jones Beach featuring 'Hootie and the Blowfish', Faithe invited the accordion player to her home the next morning for breakfast and a sales opportunity!
Whenever her dealers or performers were in town, Faithe's home was always the spot for great hospitality and camaraderie.
Back in the late 60s or very early 70s, Faithe and Ernest hosted an all-expense paid trip to Italy for dealers who purchased a certain number of instruments. From all accounts, Faithe's rigorous planning for the entire event was meticulous and is still talked about by attendees. For further information, Sam and Peggy Falcetti as well as Roger and Deedee Latulippe were part of that trip."
Click each picture to see full size
Kevin Friedrich worked with Faithe on governing boards nationally and internationally for decades. They became great friends with a wonderful mutual respect of one another. He reflects on his memories of the woman he admired since his teen years:
"I first met the extraordinary Faithe Deffner when I was a teenager in 1979 traveling throughout the USA with the North Shore Accordion Orchestra from New Zealand. We were first introduced at the AAA Festival in Miami and then more formally when she hosted us at her house in East Williston, NY.
Click each picture to see full size
Little did I know this would be the beginning of a lifelong friendship during which we would work, travel and attend many annual event together, including the AAA, ATG, CIA and other important accordion festivals and events throughout the world. I am always so very grateful for her support, inspiration and encouragement during her lifetime.
I was energized how Faithe's mind always soared beyond the boundaries of the status quo. She thrived on the challenge to reach beyond conventional thinking, while bringing the accordion to new audiences. She was a pioneer in leadership and dedicated her life to ensuring the accordion's place in the world was ensured for generations to come.
The voice behind '3100', her business phone in Mineola, was the hotline to all things accordion including her Titano business, Ernest Deffner Publications, global media and organizations. Faithe was most satisfied while working on behalf of all aspects of her beloved accordion industry, including manufacturing, teaching studios, academic institutions, performing artists, recordings, publications organizations.
I cherish the numerous conversations we had over many decades, her endless creativity, wit and her endless stores over frequent dinners which often included the history of the accordion and all the cast of personalities that made their living from it in New York."
Joan Grauman Morse: I will add a few of my memories now, although so many of them have been so beautifully expressed by those who wrote above! I would also like to take this time to thank Joan C. Sommers, Harley Jones, Carmela Busso and Kevin Friedrich for taking the time to write their wonderful tributes for my article.
It is hard to believe that Faithe has been gone for so many years as her influence on my life is still so real. Her words of encouragement still guide me through difficult times, and her work ethic pushes "lazy me" to keep on working, creating, writing and practicing my beloved accordion. She set such a fine example of how "if you can do something, you do it!" Faithe would say to me, "Who will do it if you don't? No one! So, get to work!!" Then she would laugh, as she loved to tease and push those she trusted and respected to assist her with projects that were important to her.
Click each picture to see full size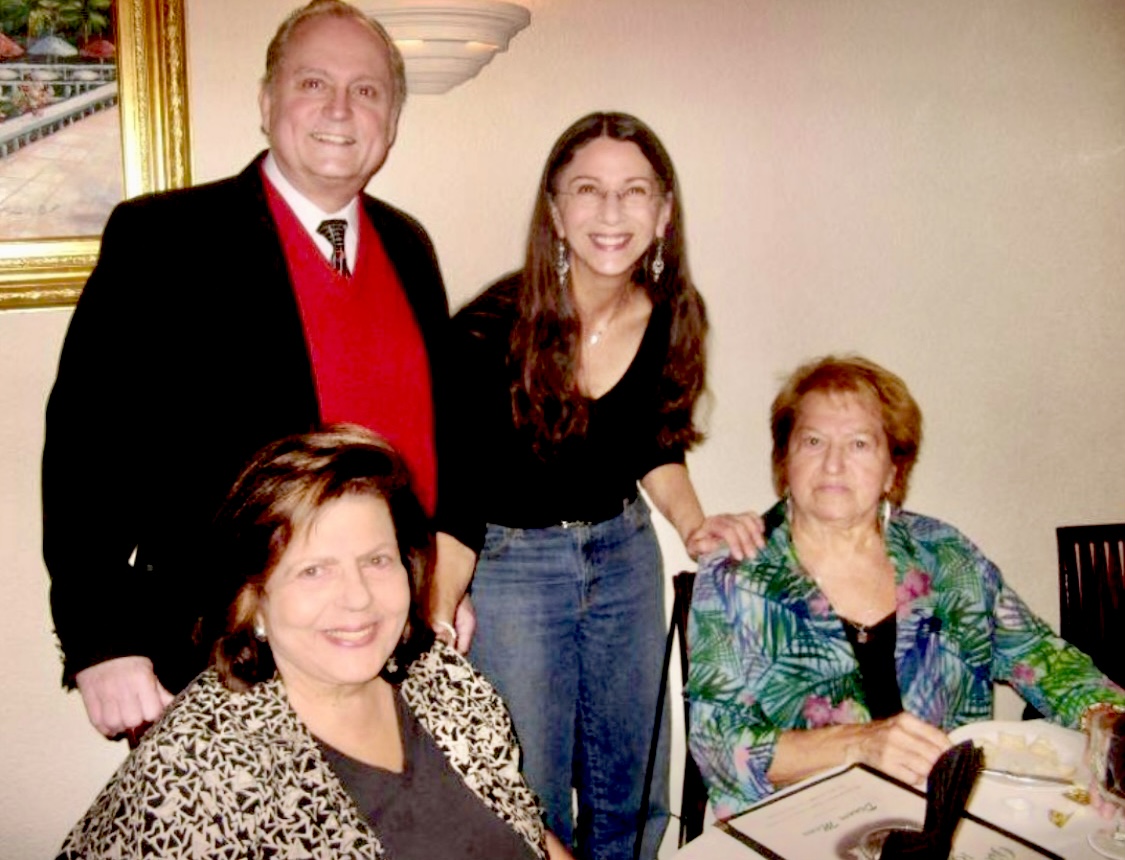 AAA Governing Board meeting, spring 2009. Lenny Feldmann, Joan Grauman Morse, Faithe Deffner and Angelica Bargou.
I get sad when writing about some of our greats who are now deceased. All we have are memories of them, and nothing else. This is not the case with Faithe. She has left the accordion world a wealth of her amazing contributions:
— Faithe's incredible TigerCombo Accordion. Faithe told me that the instrument was "Faithe's Folly": a very expensive failure. How I wish she knew that this accordion is a coveted collector's item today! I proudly own and display one of these beautiful accordions in my home.
— Faithe also purchased the accordion music from the publishing companies that went out of business. This music is still available to the public and can be purchased through Busso Music/Ernest Deffner Publications.
Click each picture to see full size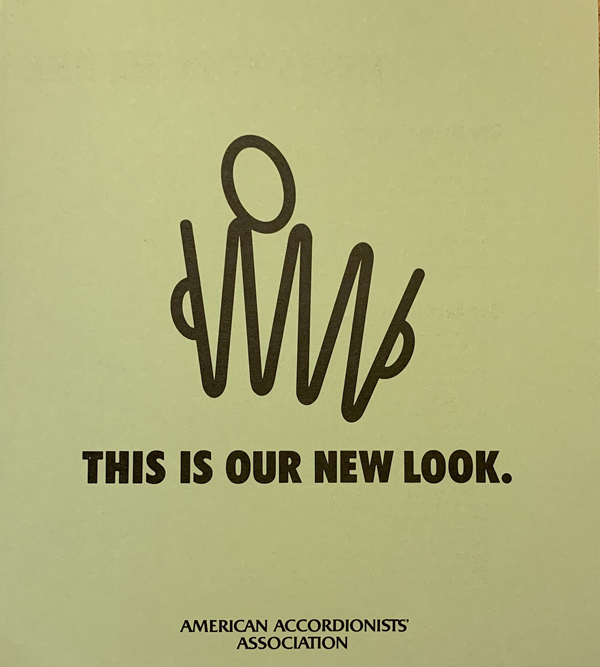 AAA logo
— The AAA logo was Faithe's design and is still used decades later because it is hard to improve upon!
These are just a small fraction of her lasting contributions to the instrument she loved and promoted for over half a century. When I agreed to become the first official AAA Historian, Faithe drove to Maryland, stayed with me for a few days, and helped me set up folders and write the 70th anniversary booklet for the AAA. If it had not been for her huge amount of donated materials and her constant encouragement, I am not sure I would have had the desire and energy for the job (as Historian) that I have loved for 15 years!
Click each picture to see full size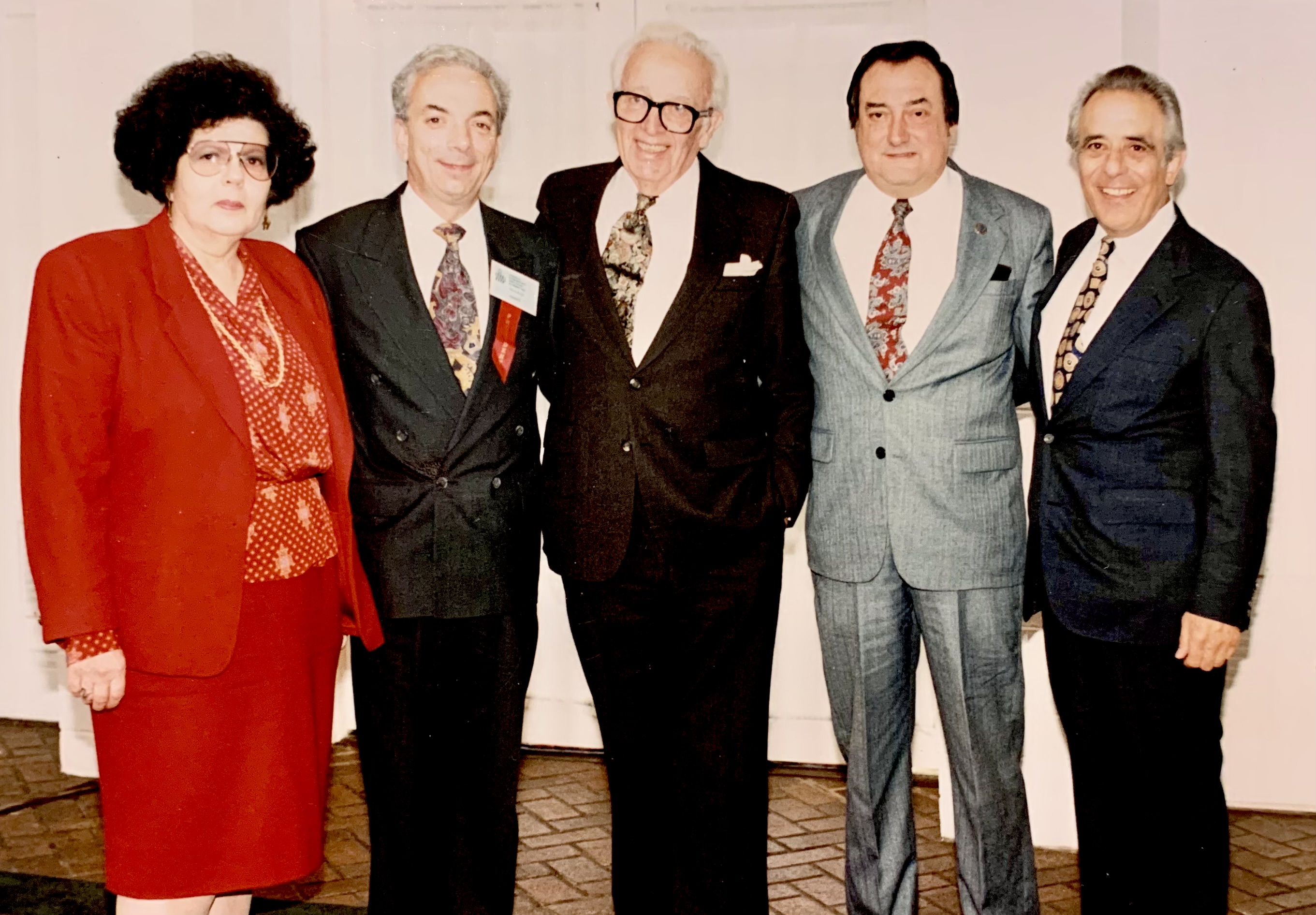 Faithe with Frank Busso, Sr., Pietro (Lee) Deiro, Jr., Dan Desiderio and Carmen Carrozza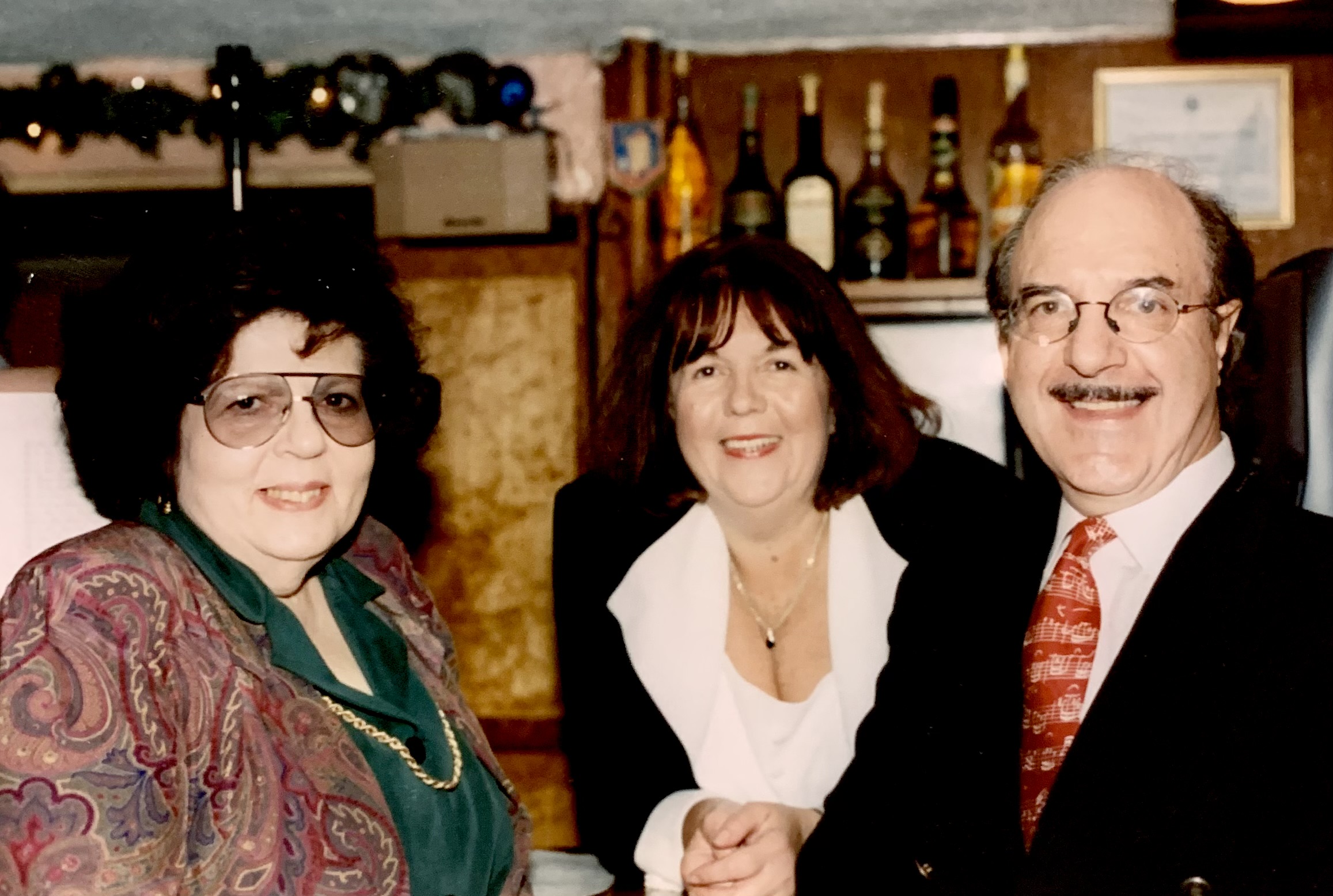 Faithe, Linda Soley Reed and Mario Tacca in the Hospitality Suite, AAA Festival, 1996, in Philadelphia, PA
I miss her voice, her amusing comments, her encouragement and love. There simply was and is no one like Faithe. The accordion world was so fortunate that she chose to focus her brilliance and energy promoting and improving upon our beloved instrument, through thick and thin. As I mentioned early in this article, please read the many beautiful articles included in the links. They illustrate so beautifully the exceptional, irreplaceable Faithe Deffner.
Obituary by Dr Helmi Harrington
Faithe Deffner Lifetime Achievement Award
Faithe Deffner Celebrity Interview
Faithe Deffner website

Click each picture to see full size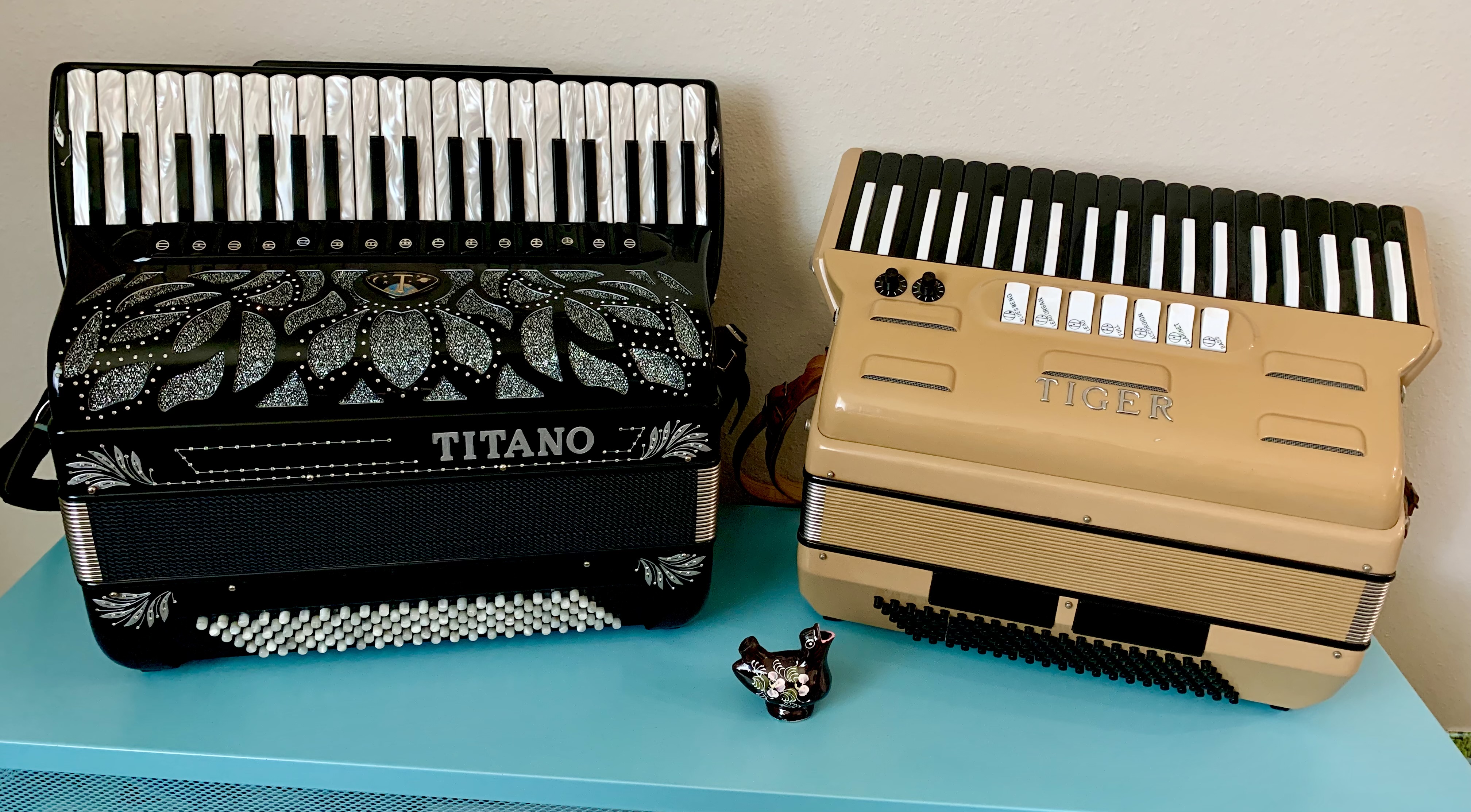 Faithe Deffner had a close hand in the design and development of every Titano Accordion model. She traveled to Italy twice annually to the factories. These two beauties belong to Joan Grauman Morse: the Titano Royal Starlight and the Tiger Combo.